February has been a rollercoaster ride for crypto traders, with market volatility leading to high levels of price uncertainty. But after a rough start to the month, many top cryptocurrencies bounced back, with their prices continuing the positive movement seen in January.
Some cryptos did much better than others, with Polygon and Polkadot the top performers in the last 30 days, as their prices jumped by 48% and 20%, respectively, according to data presented by BitcoinCasinos.com.
Among the ten largest cryptocurrencies by market capitalisation, Polygon (MATIC) was the best performer in the last 30 days with a 48% gain, according to CoinMarketCap data.
Polygon adds $4 bln market cap
On January 20, the price of the world's ninth-largest crypto stood just above $1. Over the past 30 days, Polygon's price jumped to nearly $1.50, adding more than $4 bln to its market cap.
Also, with $25.5 bln in 30-day trading volume, Polygon ranked as the ninth most-traded crypto in the past 30 days.
Polkadot has seen the second-largest gain in this period. Last month, the price of a single DOT token stood at $6.28, and now it's over $7.50 showing a 20% jump.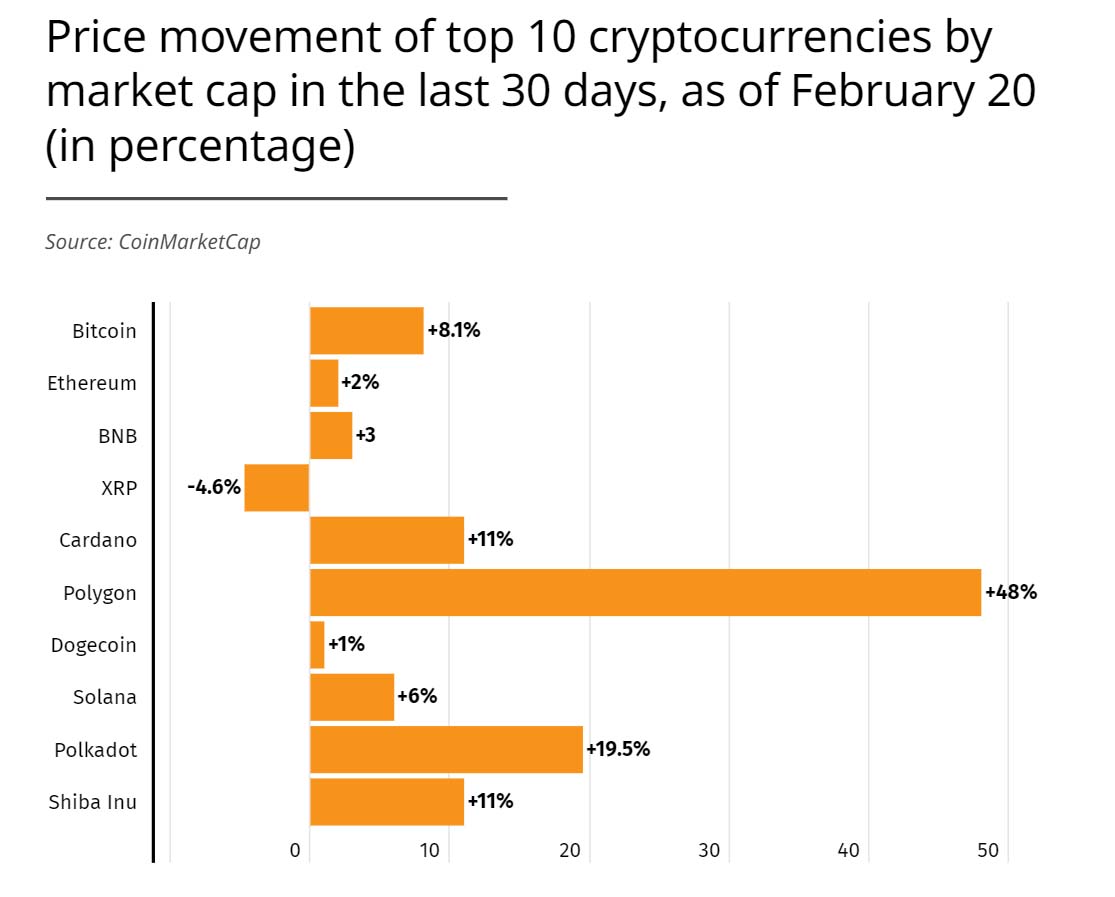 Cardano also ranked among the top crypto performers, with an 11% gain in the past month. The market cap of the world's seventh-largest crypto jumped by $1.61 bln in this period.
Since starting the year trading at a high of around $16,600, the world's largest cryptocurrency by market cap, Bitcoin, added almost $8,000 to its value. However, BTC ranked fourth on the list of top crypto performers, with an 8.1% price increase in the last 30 days.
BNB, Ethereum and Dogecoin saw much smaller gains, with their prices increasing by a modest 3%, 2%, and 1%, respectively.
XRP worst performer
While Polygon, Polkadot and Cardano saw the biggest price growth since mid-January, XRP suffered a downturn. The CoinMarketCap data showed the XRP price dropped by 4.6%, turning the crypto into the worst performer in the past 30 days.
On January 20, the world's sixth-largest crypto was traded at around $0.41. Since then, its value has dropped to $0.39, wiping close to one billion dollars off its market cap.
Also, with around $18.8 bln in 30-day trading volume, XRP slipped to twelfth place of the most-traded cryptos, behind Litecoin, Stacks, Polygon, Chainlink and Filecoin.
Statistics show that despite the latest drop, the price of a single XRP token is still up by 18% since the beginning of the year, while its market cap grew by $2.7 bln year-to-date.