After a significant slowdown in December, the last month of one of the hardest years for the entire crypto industry, the global crypto trading volume spiked in January, with all major cryptocurrencies seeing double and triple-digit growth month-over-month.
Tether, Bitcoin and Binance USD remained the three most traded digital coins in the crypto space, according to data presented by BitcoinCasinos.com, but their trading volumes jumped high above the values seen a month before.
Bitcoin's trading volume jumped 126%
Bitcoin began 2023 on a positive note, bringing some long-awaited optimism to the market. For the first time in six months, the world's largest and most expensive crypto climbed above $23,000 and was up 38% in January, while its trading volume jumped 126% month-over-month.
The CoinMarketCap data showed Bitcoin's trading volume hit $950.6 bln last month, up from $420.1 bln in December.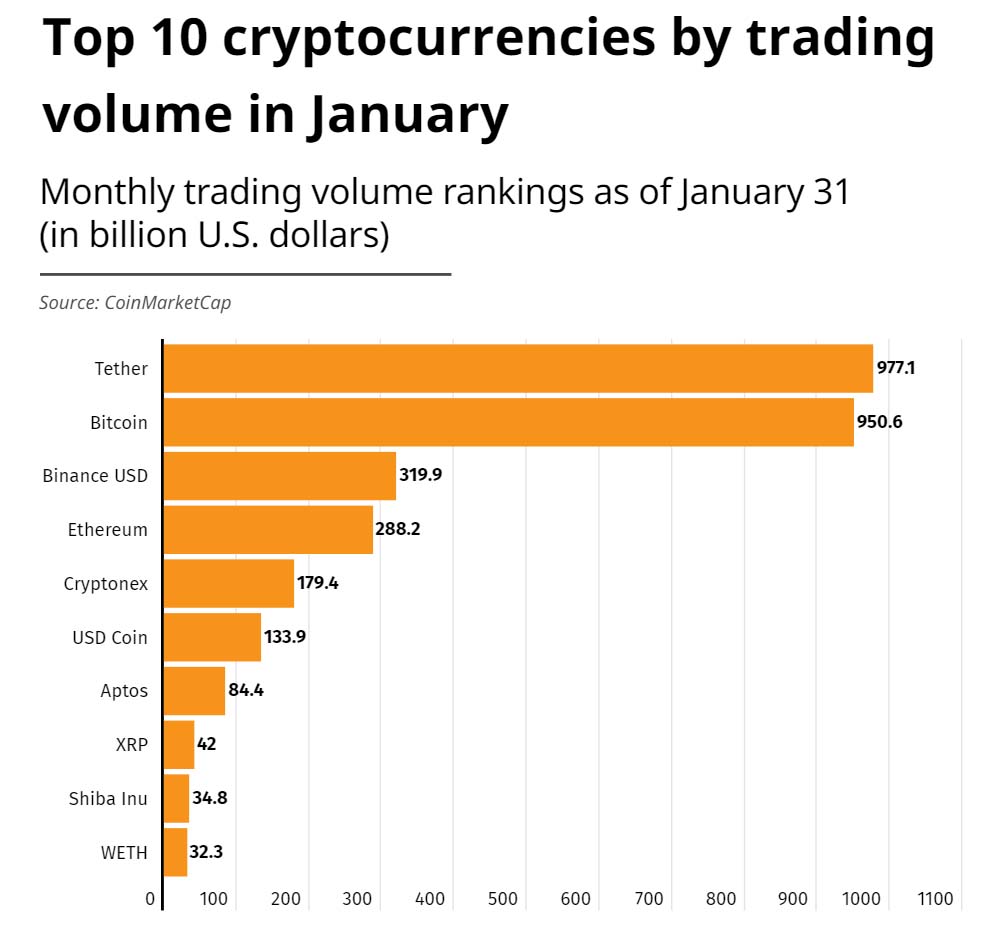 The world's most traded crypto, Tether, saw its trading volume jump by 61% in this period, rising from $603.6 bln in December to $977.1 bln in January.
However, Binance USD and Ethereum, the third and fourth most popular cryptos to trade last month, saw even more impressive growth.
Statistics show Binance USD trading volume hit nearly $320 bln in January, a massive 158% increase month-over-month, while Ethereum's trading volume surged 191% to $288.2bn.
Cryptonex (CXN), the native coin of the Cryptonex exchange platform, ranked as the fifth most-popular crypto to trade in January, with $179.4 bln in monthly trading volume.
Aptos volume spiked 366%
Like the top five cryptocurrencies, USD Coin also witnessed considerable growth in monthly trading volume, rising by 83% to almost $140 bln in January. However, Aptos has seen the biggest month-over-month growth.
In December, Aptos' trading volume stood at $18.1 bln and then spiked 366% to $84.4 lbn last month.
The CoinMarketCap data showed Aptos was also the crypto with the biggest price growth in January. In just 30 days, Aptos' value surged by 340% and hit over $16.30 last week, pushing its market cap above $2.6 bln, up from $472.6 mln in December.
After their trading volumes slumped in the last month of 2022, XRP, WETH, and Shiba Inu returned among the ten most-traded cryptos.
Statistics show XRP hit $42 bln in monthly trading volume, ranking eighth on the list. Shiba Inu and WETH followed, with $34.8 bln and $32.3 bln, respectively.