Cyprus is among the ten most popular destinations for British holidaymakers this year, according to a survey conducted by the Association of British Travel Agents (ABTA).
The sunny Mediterranean island landed tenth on a list of the 23 most desirable destinations for Britons planning a holiday.
Publishing its 'Top 23 for 23', ABTA identified the 23 most popular destinations people say they plan to visit this year.
Staying closer to home seems to be the preference for most people, with a large proportion of the list being short to mid-haul destinations such as Spain, Turkey, and the UAE.
But destinations including the USA, Mexico, Thailand, and Australia continue to have their draw as long-haul favourites.
Spain is the most popular choice, followed by the USA, France, Italy, and Greece.
Cyprus comes above Thailand and the Netherlands but below Turkey at number nine.
Reports said last Saturday was a bumper day for holiday bookings, with would-be holidaymakers hitting the high street and going online to get their holidays confirmed early to secure the best price.
The first Saturday after the Christmas and New Year break is dubbed 'Sunshine Saturday' by the UK travel industry as it is typically the most popular day of the year to book a foreign trip.
ABTA research finds that 61% of people are planning to head abroad this year, and around a third (31%) say they're planning to book earlier than normal to get the best price for their holiday.
This Sunshine Saturday was one of the busiest for several years now that holidaymakers no longer face the heavy burden of Covid travel restrictions.
Mark Tanzer, ABTA Chief Executive, said: "The start of the year usually brings lots of enthusiasm for booking holidays, and we know many people will be really looking forward to getting away in 2023.
"People's appetite for holiday taking has remained remarkably resilient despite the ongoing pressure on people's finances, though there's definitely a strong focus on securing great value for money".
EasyJet
EasyJet Holidays saw Spanish islands leading the pack, with Tenerife, Palma and Lanzarote the most popular beach destinations booked.
Amsterdam, Paris, and Iceland were the most-booked city break destinations.
All-inclusive getaways were customers' holiday of choice, accounting for more than 50% of beach breaks.
And when it came to timing, June was the busiest month for beach bookings, while March was the leading month for urban escapes.
Compared to 2022, Cyprus saw the biggest jump in bookings.
"We know that as January sets in, people like to book a holiday to look forward to, so we're really excited to have seen our best sales day since we launched our business back in 2019," said Garry Wilson, easyJet holidays CEO.
"With the cost of living still very much at the top of the agenda, what we're seeing is that people are still prioritising holidays.
"We expect demand will continue with great value playing a more key role than ever, so we're absolutely committed to continuing to offer brilliant holidays at unbeatable prices."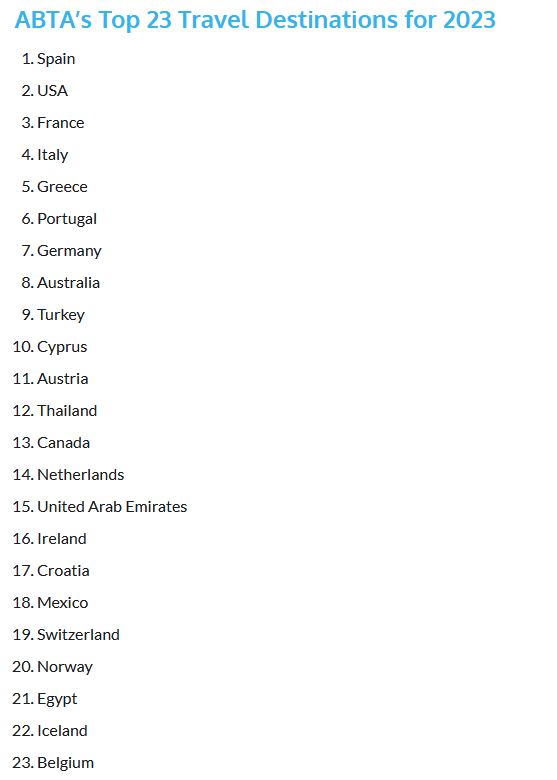 Local hotels
Local stakeholders are edgy over what the new season holds for the sector, waiting for the first wave of bookings to flow in January and February.
Last season left a sweet taste, as tourist arrivals in the first 11 months were 80% of the record-setting 3.97 million in 2019, with 3.1 million coming to Cyprus.
According to CyStat data for January to November, tourist arrivals were 3,091,039 compared to 1,840,003 in 2021.
In the first ten months of 2022, income from tourism reached 90.2% compared to 2019, generating €2 bln.
In comments to the news site Stockwatch, the chair of the Cyprus Hotel Association, Harris Loizides, said: "We are anticipating and investing in the momentum created last year by penetrating traditional markets, which create a new perspective for the summer of 2023."
Loizides noted that efforts to reach new markets after losing the Ukrainians and Russians due to the war in Ukraine prompted more arrivals from Germany, Israel, Scandinavia, and Central Europe.