Parliament approved a government proposal to postpone local elections to facilitate the sweeping reform project, eventually reshaping local authority administration.
Thursday's postponement of the elections, initially scheduled for December this year, was pushed forward to May 2024 to coincide with the European Parliament vote.
Three laws were passed by the MPs, which extended the term of existing municipal and community councils.
Postponement of the elections means that existing municipal and community councils will continue serving their terms until the implementation of the local government reform.
MPs have under two and a half years until the next local government ballot to usher in radical reform of local authorities.
Under the reforms, the number of municipalities will decrease from 30 to 17, with many communities and local councils merging.
Merged local authorities will be granted the administration of state facilities such as nurseries, care homes, and powers relating to public transport.
The reform aims to achieve economies of scale and lower the cost of public services.
Local authority reform was one of the pledges made by the government to the European Commission to receive funds from the EU's Recovery and Resilience Facility.
To qualify for disbursements from the Recovery and Resilience Facility, Cyprus must, by the end of 2021, pass reform legislation in local government, public administration, and justice.
Risk losing EU funds
If Cyprus fails to deliver by the designated timeframe, it could risk losing EU funding for other areas.
Political parties support the reforms but have openly disagreed on how they will be rolled out, threatening the whole project.
Following the decision to postpone the elections, the House Interior Affairs Committee chair, AKEL MP Aristos Damianou, said: "Despite differences in opinions as to how the reform should be carried out, parties are looking for middle ground having in mind the bigger picture".
Damianou said the committee has to bring separate legislation overhauling local government to the plenum floor by the end of November at the latest.
Interior Minister Nicos Nouris, the minister overseeing local government, told reporters the House's decision was a milestone for local government.
"After 10 years of discussions and intense deliberations between the parliamentary parties and the government, I think that today is an extremely important day," said Nouris.
President Nicos Anastasiades welcomed the decision on Twitter, saying the "road opens for one of the biggest reforms in the country so local authorities can become efficient and modern for the benefit of the people".
Former Presidential candidate Stavros Malas, backed twice by opposition AKEL, took to Facebook to express his discontent with the decision to postpone local government elections.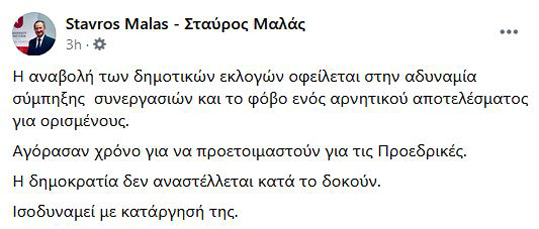 In a post, he blasted the parties arguing that the action was tantamount to abolishing democracy.
"The postponement of the municipal elections is due to the impossibility of consolidating collaborations and the fear of a negative result for some.
"They are just buying time to prepare for the Presidential elections," wrote Malas.