After a series of disappointing results in 2022, tech giants are bouncing back from their post-pandemic slumps. Although some fell short of expectations in terms of sales, GAFAM companies have more than doubled their profit and reported one of the best Q3 results ever.
According to data presented by AltIndex.com, the combined net income of Apple, Microsoft, Alphabet, Meta, and Amazon jumped by 107% year-over-year and hit $86.5 bln in the third quarter.
Amazon +241% y-o-y, Meta +164%
The Big Five tech companies were some of the biggest winners during the early stages of the pandemic, with their online advertising, e-commerce, and consumer spending revenues surging amid the lockdowns.
But 2022 brought a reality check, as their revenues and profits plunged after life returned to normal. However, their third-quarter results showed the tech giants hadn't only recovered from their post-pandemic slumps, but some even managed to break their earlier records in terms of profit.
According to Statista data and official company fillings, Amazon was the biggest winner in Q3. The retail giant's profitability crisis began in 2021 when its income started to swing as new CEO Andy Jassy began a cost-cutting regime.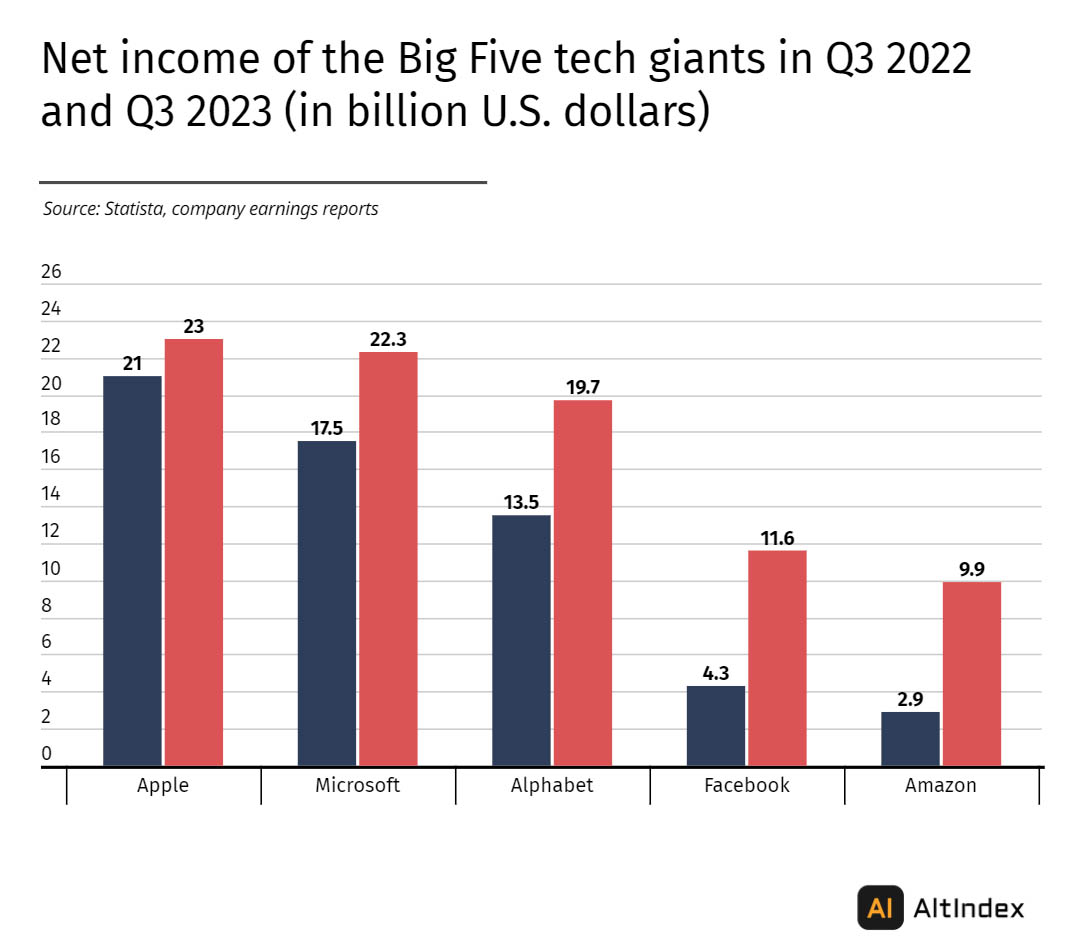 But the earnings report for Q3 2023 showed it ultimately paid off. In the third quarter of the year, Amazon reported income of $9.9 bln, a Q3 record and their second-best result ever.
Statistics show Amazon saw its Q3 profit surge by 241% year-over-year, far more than any other GAFAM company.
Meta, one of the biggest losers among the tech giants in 2022, saw the second-highest year-over-year growth. The Facebook-parent broke its Q3 record from the pandemic, bringing in $11.6 bln between July and September, 164% more than in the year-ago period.
Although Alphabet saw its profits fall somewhat in 2022 compared to 2021, the Google company became even more profitable this year. Alphabet reported a net income of $19.7 bln in the three months ending September, or 46% more than in Q3 2022.
Apple, which didn't suffer as many losses in 2022, saw its profit grow by 10% YoY to $23 bln in the third quarter. Microsoft followed with a 2.7% growth and a $22.3 bln third-quarter profit.
Market cap up $3trln y-o-y
Fantastic third-quarter results have helped the Big Five tech giants add trillions of dollars to their stock value. According to YCharts data, the combined market cap of Apple, Microsoft, Alphabet, Meta, and Amazon amounted to $9.62 trln last week, or $3 trln more than in November 2022.
Statistics show Meta saw the biggest market cap growth of all five companies, with its stock value surging by nearly 180% year-over-year to $844 bln.
All other tech giants saw a double-digit market cap growth.
The stock values of Microsoft and Amazon increased by roughly 45% year-over-year and hit $2.7 trln and $1.48 trln, respectively.
Alphabet saw a 33% growth and hit $1.67 trln in market cap last week. Apple follows with a 25% stock value increase and a market cap of nearly $2.9 trln as of last week.