After becoming the fastest-growing social media platform and reaching 100 mln users twelve times faster than ChatGPT and 55 times faster than TikTok, Meta's Threads has seen its user growth significantly slow in the past weeks.
According to data from AltIndex.com, Threads' growth slowed by 90% in August to an average of 440,000 new users per day.
Launched by Facebook and Instagram-parent Meta as a rival to Elon Musk's Twitter, Threads has taken the social media space by storm. Although some have questioned its explosive growth due to the already existing three-billion Meta user base, it still took only five days for Threads to hit 100 mln users, something no other social media platform ever did before.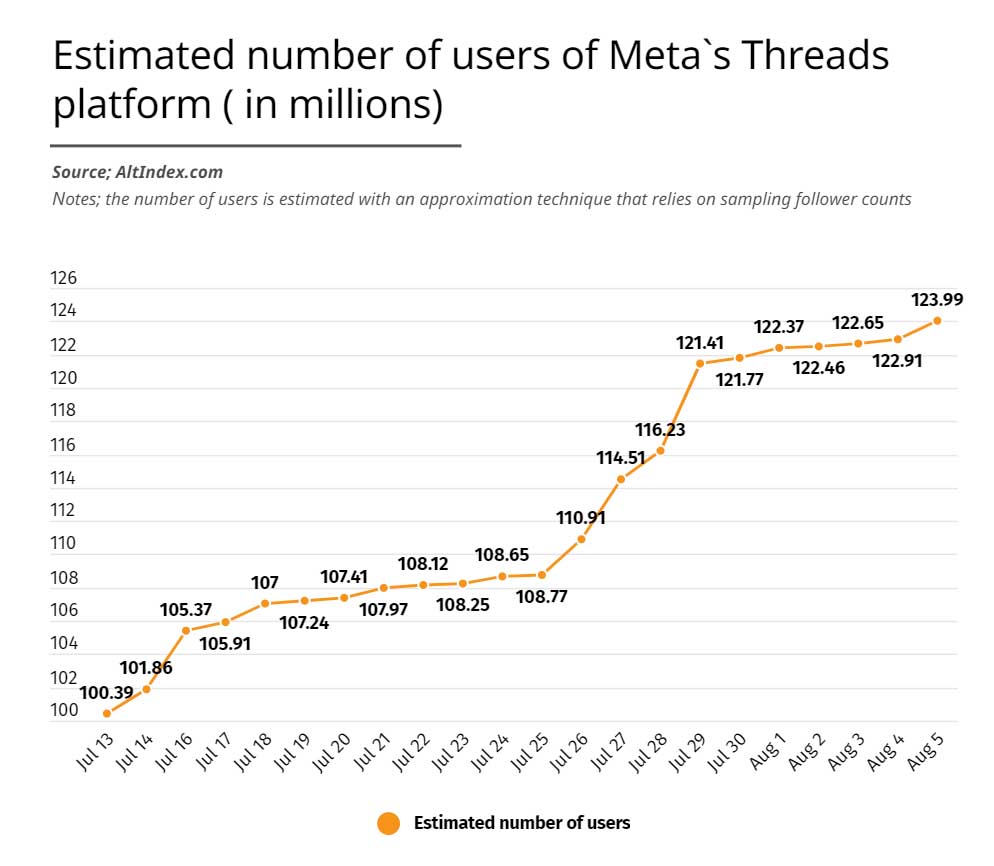 But after reaching this huge benchmark in such a short time, Threads' user growth has drastically slowed.
Since Meta ceased disclosing user count data on July 11, AltIndex.com estimated Threads' total number of users with an approximation technique that relies on sampling follower counts. And according to the estimates, the platform saw its user growth slow by 90% in August.
From 4.7 mln to 440,000 new users per day
Between July 5 and July 30, Threads gained an estimated 121.7 mln users or an average of 4.7 mln users per day. But, in the five days of August, the platform's user count increased by only 2.2 mln, showing an average of 440,000 new users per day or eleven times less than in July.
The SensorTower data show that people also open the app less frequently and spend less time using it.
According to SensorTower, Threads users opened the app an average of 14 times per day on its launch day and spent roughly 19 minutes scrolling through it. By the end of the month, Threads' daily average time spent fell to merely three minutes a day, with people spending only 2.6 sessions per day using the app.
Although the biggest drop-off happened in the two weeks following Threads' launch, the massive decline in the number of new users is ongoing. The AltIndex data show Threads' user count has grown by an average of 0.6% per day in August, with the platform reaching an estimated 123.9 mln users on August 5.
And while Meta CEO, Mark Zuckerberg, is quite optimistic about Threads' future, the app is still far behind its competitors.
With close to 124 mln users, Threads has less than half the user count of its biggest competitor Twitter (now 'X'), which counts roughly 260 mln daily active users.