Cryptocurrency trade volumes saw a significant drop in December, the last month of one of the hardest years for the entire crypto industry, with Tether and Bitcoin retaining their market leadership.
Following the U.S. Fed's rate hike moves, the price of the world's leading crypto, Bitcoin, dropped to the lowest of $16,400 at the end of last month, the value last seen in November 2020, while Ethereum ended the month with a 7% drop to $1,195.
Tether, Bitcoin and BinanceUSD were the three most traded cryptos in the last 30 days, but their trading volumes dropped deep below the levels seen a month before, according to data presented by CryptoPresales.com.
Tether volume plunged to $603 bln
Approaching the end of the year, many traders and crypto investors took a break, causing a slowdown in crypto trading activity.
In November, Tether hit a record trading volume of $59.6 trln as investors flew to the safety of US dollar-denominated tokens after the collapse of FTX. Although the world's leading stablecoin remained the most traded cryptocurrency, its trading volume slumped to $603 bln in December or 98 times less than the value seen a month before.
The CoinMarketCap data showed that Bitcoin's trading volume tanked 33% month-over-month, falling from nearly $635 bln in November to $420 bln in December. Furthermore, this was the second month in a row in which Bitcoin's trading volume stood deep below $1 trln seen earlier in 2022.
With $123.7 bln in 30-day trading volume, Binance USD ranked as the third most-traded crypto, one spot above Ethereum. Still, like other cryptocurrencies, it also witnessed a considerable month-over-month drop, with its trading volume plunging by 55%, compared to November.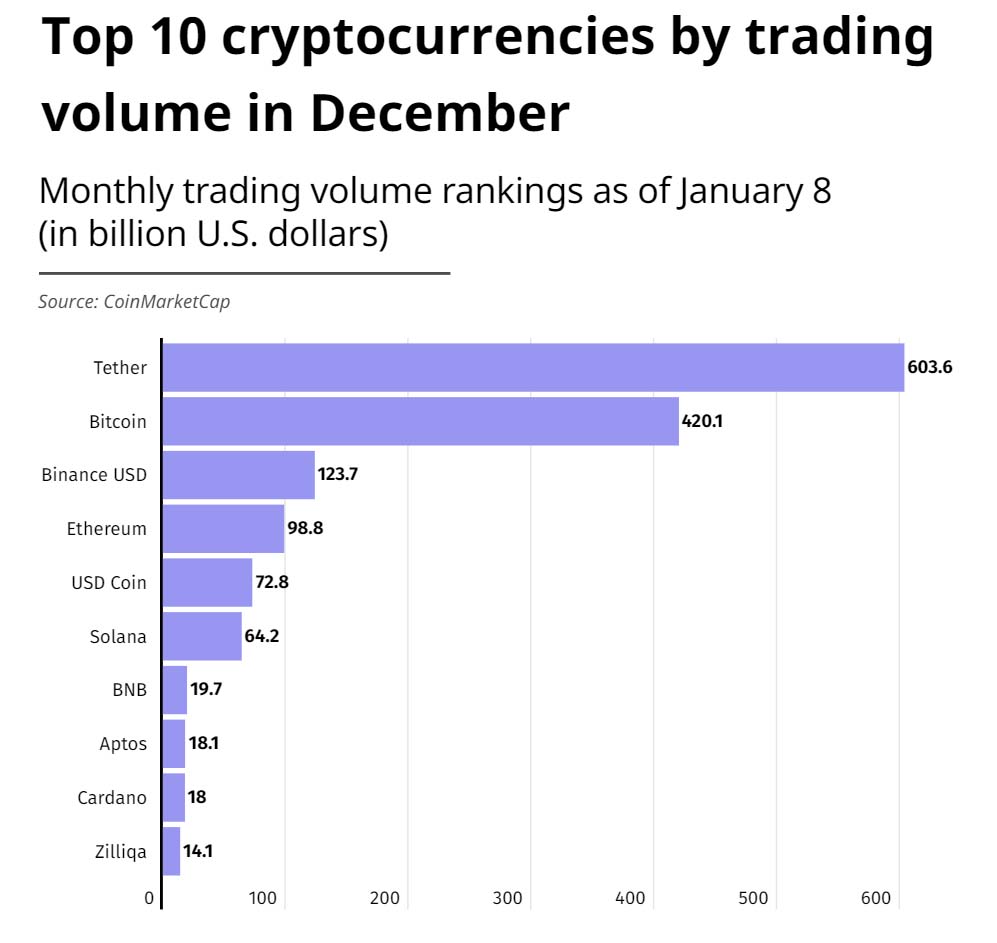 ETH's trading volume continued falling throughout December and hit less than $100 bln, a 70% drop month-over-month and 80% less than $475 bln seen in October.
With $72.8 bln in 30-day trading volume, a massive 40% drop month-over-month, USD Coin ranked as the fifth most popular crypto to trade in December.
Aptos and Zilliqa enter Top Ten
The CoinMarketCap data showed significant changes in the other half of the list, with four out of five cryptos ranked in November losing their spot last month.
XRP, WETH, Dogecoin and Polygon were all among the ten most-traded cryptos in November, but didn't even make it to the list in December as their trading volumes slumped.
Statistics show Solana was the sixth most-traded crypto last month, with $64.2 bln in 30-day trading volume. Far below, with a trading volume of $19.7 bln, BNB ranked as the seventh most popular crypto to trade.
Compared to November, three new cryptos entered the most-traded list.
With $18.1 bln in monthly trading volume, Aptos ranked eighth on the list of most popular coins. Also, statistics show the price of the APT token jumped by 20% in the last month, rising from $4.67 to $5.62.
Cardano and Zilliqa close the top ten list, with $18 bln and $14.1 bln in monthly trading volume, respectively.