As Cyprus begins to get a grip on the coronavirus outbreak, the village of Aradippou one of the country's two COVID-19 hotspots has not seen a new case for over a week.
Cases in the island's second hotspot, Paphos, increased by 18 to 146 compared to the previous week, exhibiting a slowdown.
According to the latest updated epidemiological report with data up to 21 April by the Health Ministry, Aradippou has not reported a new case since the 15 April.
Aradippou still has the most cases compared to its 20,000 population, with some 400 cases for every 100,000.
In absolute numbers, Aradippou had 119 cases which represent 15.2% of all cases reported.
Cases in Aradippou, including a cluster at a local bakery production line, are mainly males and the median age is 49 years.
The district with the most cases is Nicosia with 290 (37%), followed by Larnaca with 209 (26.7%). Some 146 (18.6%) were recorded in Paphos, 83 (10.6%) in Limassol, 40 (5.1%) in Famagusta, and 17 (2%) were reported either in British bases or had a residence abroad, or information was not available.
According to the Health Ministry's data until April 21, 795 laboratory-confirmed cases of coronavirus were reported.
With the latest findings, Cyprus' health services can boast that they have stabilised cases in the single-digit range while keeping the death toll as low as possible.
Cyprus coronavirus mortality rate stands at 2.2% of all reported cases, with 17 patients that contracted COVID-19 having passed away (but only 12 of these deaths were directly caused by the virus).
A patient who died on Wednesday (22 April) was not included in the data.
This is significantly lower than Italy's 13.3% and the UK's 13.2%, Greece's death rate stands at 5.2% and Sweden's at 10.7%.
Thirteen deaths (76.5%) occurred in men and four (23.5%) in women; the median age of all deaths was 76.
Cyprus boasts one of the highest testing rates as a total of  36,982 tests have been performed as of April 21 (4,222.2 per 100,000 population), significantly higher than other countries around the globe.
Italy performs some 2,399.7 for every 100,000, while South Korea does 1,105.9 tests.
Case figures were expected to shoot up after the Health Ministry issued a decree obliging every employee in the food and beverage chain of supply to get tested.
However, the number of confirmed cases is following a downward trend.
The state has offered some 20,000 free tests for frontline workers in this context, 6,500 for health professionals.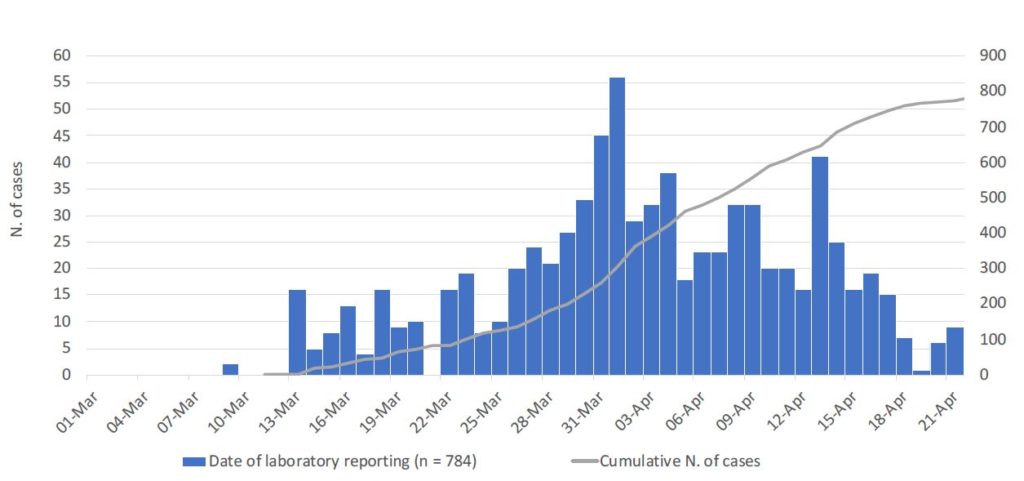 Case characteristics
The median age of all cases is 47 (interquartile range: 33-60 years).
By age groups, cases included 47 infants, children and adolescents aged 0-17 years-old (6.1%), 527 adults aged 18-59 years (67.8%), and 203 persons aged 60 and older (26.1%).
The age of seven notified cases has not been recorded at the moment.
In total, 20% of patients received hospital care, and 123 patients (78.3%) have been discharged from the hospital.
When age was available, the median age of hospitalized patients was 63 (interquartile range: 51-73 years). Hospitalized cases were mainly males (66.9%).
Overall, 30 cases (19.1% of all hospitalized patients) have been admitted to ICU, of which 14 (8.9% of all hospitalized patients) were still in ICU.
A total of 25 ICU patients (83.3% of all ICU patients) have been intubated, of which 10 are still intubated.
The median age of patients admitted to ICU was 68 years (interquartile range: 58-76 years).