The world's five youngest billionaires, at an age when many are still building their careers, have already amassed a staggering fortune that places them among the most influential figures in global business.
Together, they collectively control a staggering $12.3 billion in wealth, according to data acquired by Finbold as of Q3 2023.
In a world where the path to financial success has traditionally been a slow and arduous climb, a group of young prodigies has not only accelerated their ascent but has also made it to the summit ahead of their peers.
At 22, Italy's Luca Del Vecchio, a prominent figure in the eyeglasses industry, with links to the Luxottica Group leads the pack with a fortune valued at $3.9 billion.  He owns eyewear brands like Armani Exchange, Burberry and Dolce. His brother, Clemente Del Vecchio, also active in the same industry, has amassed a wealth of $3.9 billion at the age of 19.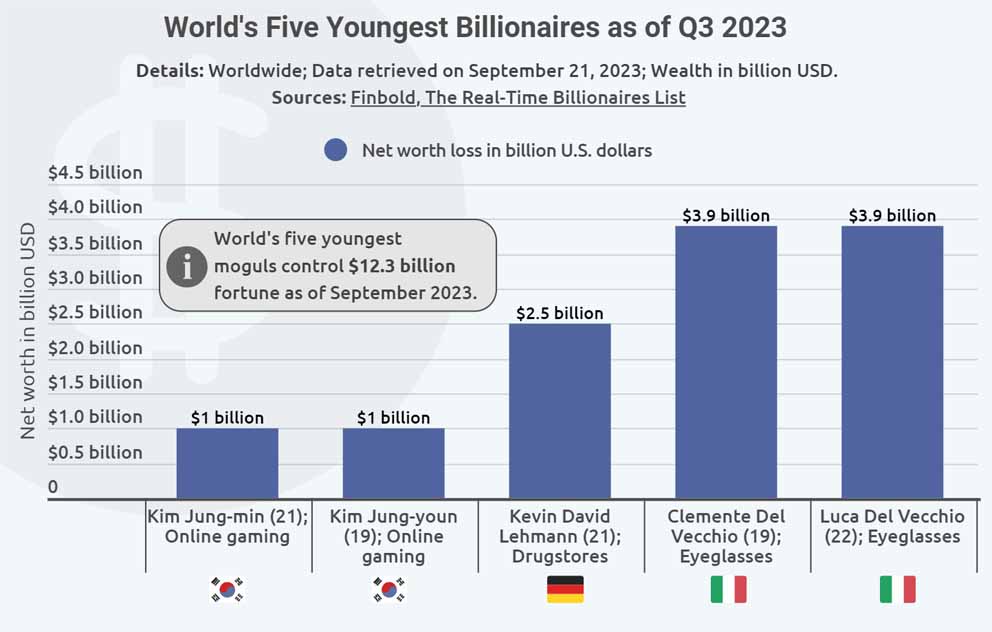 In third place is Germany's Kevin David Lehmann, aged 21, who has made a mark in the drugstore industry, boasting a net worth of $2.5 billion. Lehman acquired his fortune through a stake in Germany's leading drugstore chain, DM (Drogerie Markt).
Elsewhere, South Korea's Kim Jung-youn, at 19 years old, secures the fourth position with an impressive fortune of $1 billion. Occupying the fifth spot is his sister Kim Jung-min, aged 21, who shares a valuation of $1 billion.
These South Korean siblings have accrued their wealth through their stake in the online gaming giant Nexon (NXC), founded by their late father, Kim Jung-Ju.
Source of wealth
The Finbold research report highlighted some of the contributing factors to the young billionaires' wealth.
"While these five billionaires represent diverse industries, one common thread emerges: most have accrued their wealth through pre-existing family connections, exemplified by the Vecchio brothers," said the report's author, Justinas Baltrusaitis.
"Nevertheless, these dynamics aren't limited solely to direct family ties since some of the billionaires have forged their fortunes through innovation and relentless effort rather than relying on inherited wealth."
As the young moguls continue to chart their paths in the business world, they encounter criticism that has historically plagued their older counterparts.
These concerns centre primarily around taxation, the societal implications of the swift ascent of young billionaires, employment dynamics, wealth distribution, and the responsible management of their newfound wealth.