The results of the Spanish general elections on Sunday were inconclusive and do not offer at this stage clear paths for government formation for either the centre-right Popular Party (PP) or the centre-left Spanish Socialist Workers' Party (PSOE).
Alberto Núñez Feijóo's PP came out ahead in the elections with 33.1% of the votes, followed by Pedro Sánchez's PSOE with 31.7%, Santiago Abascal's far-right Vox with 12.4%, and Yolanda Diaz's leftist bloc Sumar Party with 12.3%.
Regional and nationalist parties won the remaining seats in parliament and could be the deciding factors in forming the next government.
In an analysis of the election results, DBRS Morningstar said that neither the combination of PP-Vox nor of PSOE-Sumar managed to obtain an absolute majority in Congress (176 out of 350 seats).
"This outcome increases the risk of parliamentary gridlock, the emergence of a weak government, or the potential for new elections," the rating agency said.
It rates the Kingdom of Spain "A" with a 'stable' trend.
The Political Path Forward
The formation of a new government could take some time, given the fragmented political landscape in Spain. PP might try to form a minority government, in isolation or in a coalition with Vox.
"The chances of succeeding appear thin as the combination of PP-Vox (169 seats) falls short of an absolute majority even adding other small parties that could support Feijóo's investiture (171 seats)," DBRS Morningstar explained.
Obtaining the support or abstention of other regional or nationalist party is low as Vox is seen as a red-line by most of these parties. PSOE's abstention to allow for a PP-led government, in isolation or with Vox, or the formation of a grand-coalition also appears unlikely at the current juncture.
"Instead, PSOE could try to renew a coalition government with Sumar, which arithmetically appears more likely than a PP-led one."
While PSOE-Sumar (153 seats) obtained an even lower number of seats than PP-Vox, Pedro Sánchez might win an investiture vote only if backed by a broad-alliance in parliament (172 seats) and it manages to obtain Junts' or PP's abstention.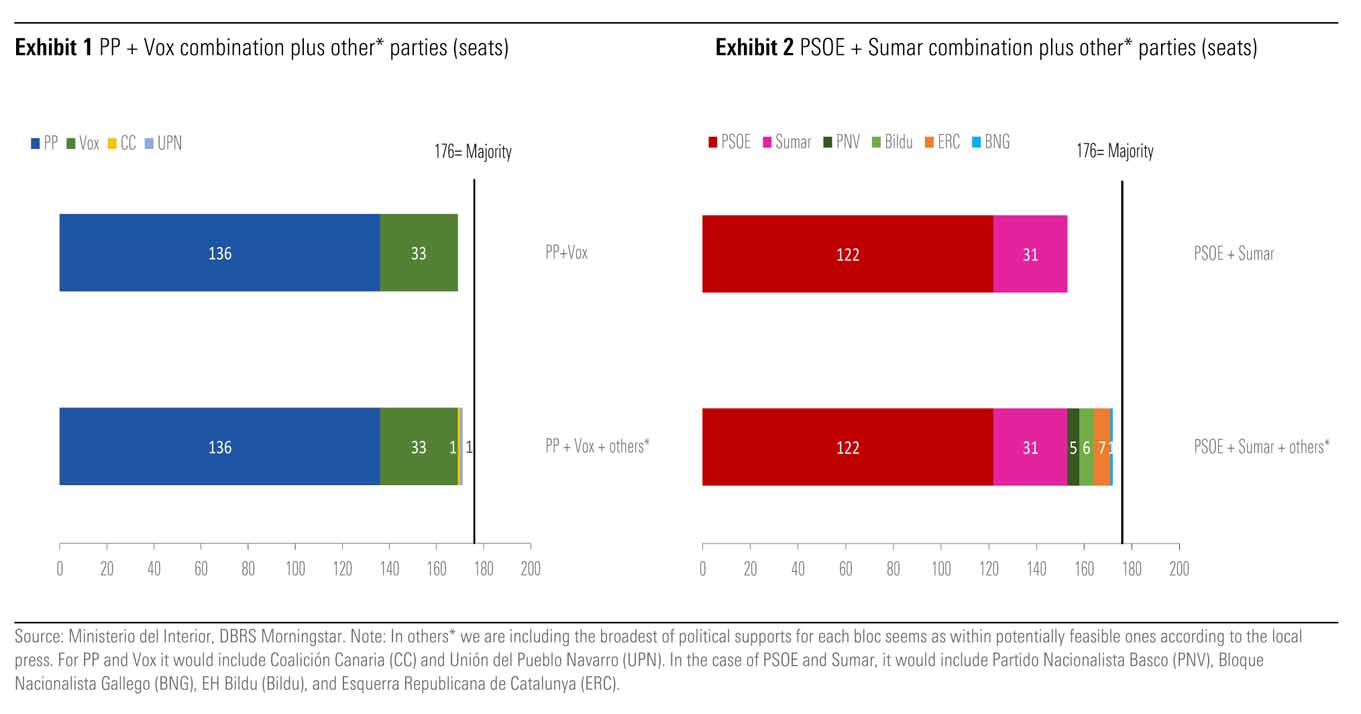 "Both options currently appear unlikely, however, they cannot be ruled out. Even if Pedro Sanchez manages to obtain sufficient support for an investiture, the next government will most likely face instability issues and require potentially costly negotiations with several parties in order to pass legislation, potentially slowing down the required fiscal consolidation," the rating agency said.
If no party manages to break the deadlock, this could trigger another election and stall policy making for a few months at least, it added.
New elections could be held potentially in December, with no assurances of breaking the deadlock. The process for now is that if the Prime Ministerial candidate mandated by the King fails to win an investiture by an absolute majority in parliament, it will have another chance 48 hours later to win it by a simple majority.
If neither are successful, then parliament will have two months to invest a Prime Minister. If no viable alternative is achieved in the following two months, then parliament would be dissolved and elections held within 47 days, potentially meaning new elections sometime in December.
Implications for Spain
DBRS Morningstar explained that the main risk from a political standpoint is that Spain faces a prolonged period of political stalemate. This could complicate a speedy execution of Spain's Recovery and Resilience Plan and the release of the European Union's funds or slow down the required fiscal consolidation.
"The absence of a fully functioning government and hung parliament, could hinder the approval of the budget for 2024, the year EU fiscal rules are expected to be reactivated."
He rating agency added that on a positive note, while Spain's economy is slowing down, it is still expected to outgrow the other large European economies this year and headline inflation pressures have fallen sharply in recent months.
In the next couple of years, the fiscal performance will remain driven to a large extent by the cyclical recovery and the removal of the measures to deal with the energy and inflation shock, unless the next government commits to a stronger fiscal adjustment, it said.
"Still, the next government will need to tackle some long-standing challenges including an economic slowdown in the face of higher interest rates. Given Spain's high level of public debt, rebuilding fiscal buffers and lowering indebtedness levels will remain important, especially in the context of higher funding costs and increasing age-related expenditures.
"From an economic point of view, addressing Spain's low productivity and high unemployment levels as well as improving the resilience of its economy will continue to pose challenges."
The DBRS Morningstar analysis concluded that Spain's fiscal and economic paths is expected to remain broadly similar under a PP or PSOE-led government, at least in the next couple of years, if no protracted political stalemate persists.
The anticipated reactivation of fiscal rules starting in 2024 and the incentives provided by the NextGen EU funds provide a strong blue-print for any government.
"A PP-led government would bring a shift in policies, compared to the status quo, as we would expect it to use any fiscal room available to lower taxes and push to eliminate red tape or ease bureaucratic processes to attract higher investment to Spain. These policies might create upside to the economic outlook, however, are unlikely to change dramatically the near-term performance."