AstroBank, the fourth largest lender in Cyprus, has reported profits for a second year in a row, as the bank's management eyes to make its presence felt in the financial sector.
Presenting its annual results for 2022 on Wednesday, AstroBank's management reported a net income of €12.2 mln for the year 2022, compared to €3.3 mln in 2021, and losses of €18.1 mln the year before.
"The systematic efforts of AstroBank during the last two years towards a focused business model, streamlined operations, and resolution of legacy issues, have supported very strong financial results," said CEO Aristidis Vourakis.
"With capital of over €200 mln, extensive presence across the country, and an updating digital offering, AstroBank stands to play a central role serving Cyprus entities and individual customers," he added.
Vourakis noted that the bank's performance would have been even more impressive, if not for a number of non-recuring items totalling €9.5 mln.
These items consist of €7.6 mln of Servicer's settlement fees and €1.9 mln for its voluntary retirement scheme (€0.7 mln in 2021).
Profit for the year stood at €21.7 mln, compared to €3.9 mln in 2021.
The bank's reported net income represents a return on average equity of 6.2%, compared to 1.7% in 2021, while capital adequacy ratio stands at 18%.
Total operating income was reduced from €74.2 mln to €72.7 mln, down 2%. An increase of 6.5% in net interest income from €48.1 mln to €51.2 mln and largely stable net fee income of €16.9 mln have been offset by a decline in other income from €9.1 mln to €4.6 mln.
Balance sheet dynamics
AstroBank's total assets as of December 31, 2022 amounted to €2.7 bln, reduced from €3 bln in 2021, mainly attributed to the partial repayment of the funding from the European Central Bank through the TLTRO programme by about €200 mln.
Net loan balances after provisions decreased from €1.137 bln as of December 31, 2021 to €1.091 bln as of December 31, 2022 reflecting the significant resolutions in the non-performing portfolio. Total new lending granted for the period reached €165 mln.
"Sustained new lending to companies and individuals in Cyprus reflects AstroBank's strong commitment to the economy and its strong financial position facilitating new business activity," said the bank's CEO.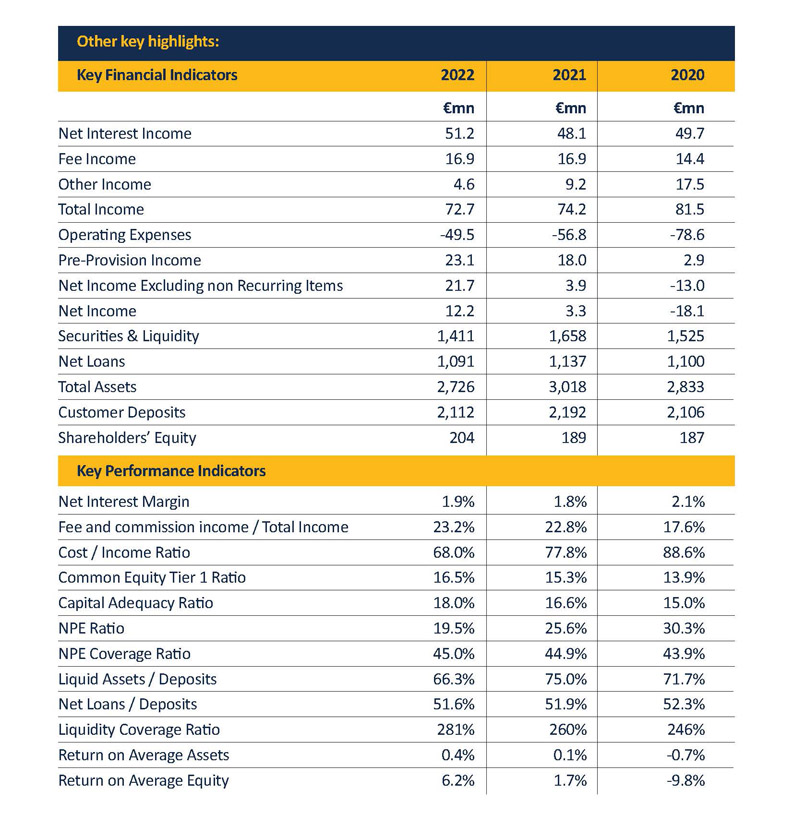 Customer deposits declined to €2.11 bln compared to €2.19 bln a year earlier, reflecting movements of deposits in the prevailing environment of rising interest rates.
Underpinned by common equity of €203.7 mln, the bank's capital adequacy ratio improved to 17.96% in 2022, up from 16.58% the previous year, due to internal capital generation through profitability and significant resolution of non-performing loans.
The Core Tier 1 ratio, consisting exclusively of common equity, stood as of December 31, 2022 at 16.54%, reflecting strong capital contributions to AstroBank of about €115 mln since 2017.
AstroBank's liquidity remained robust throughout the year, with a liquidity coverage ratio of 281% at the end of 2022 and a stable loan-to-deposit ratio of 52%. The bank also maintained direct liquidity and liquid treasury assets of about €1.4 bln.
The NPE ratio was reduced to 19.5% as of December 31, 2022 from 25.6% as of December 31, 2021. Provision coverage remained stable at 45%.
Completed disposals of real estate owned assets (REOs) reached €33.4 mln, with cumulative sales over the last two years amounting to €62.4 mln. AstroBank said it resolves NPEs on an organic basis without portfolio sales.
Looking to the future
Looking forward, the CEO said that the bank aspires to make its presence felt, taking on a key role in the island's banking sector in the coming couple of years.
"AstroBank remains committed to quality and efficient delivery of its services to its corporate and retail clients fully utilising the functionalities allowed by digital transformation," Vourakis said.
"In the fourth quarter of 2023, a number of new initiatives will be in production, including a new mobile app and internet-based digital channel, as well as full digitisation of the bank's card offerings," he added.
"Those initiatives accompany a range of digitisation and integration of internal processes releasing client facing capacity, with the integrated new digital platforms and its 15 locations-strong network AstroBank aims to play a key role in the Cyprus banking sector."