The global financial system is undoubtedly going through a period of turmoil and uncertainty.
Although the banking sector is admittedly in better shape than in 2008, the collapse of Silicon Valley Bank in the USA and Credit Suisse have – as expected – raised significant concerns globally over a possible domino effect.
In times of crisis, businesses, investors, and clients will naturally seek safe havens for their deposits and alternative ways of securing funding as financial institutions tighten their lending criteria for businesses and households.
There will always be options available, while we should bear in mind that even during the greatest of crises, opportunities may arise, as long as one is flexible and decisive enough to be able to spot and use them to their advantage under the guidance of professionals with expert knowledge and experience in the investment sector.
The United Kingdom, as an international investment destination, has always offered significant investment opportunities.
In recent years, the bridging loan sector has grown significantly due to successive crises and the tightening of lending criteria.
At the same time, the alternative investment sector continues to grow precisely because conventional investment options continue to fail to generate significant returns – at least for now.
Consulco, a Cypriot company with vast experience in investment management in the United Kingdom, offers its clients high investment returns.
London Credit provides business bridging loans secured against commercial and residential property in London, with participating investors enjoying stable and high returns.
An additional advantage for investors is that these loans are short-term and are usually repaid within six to twelve months.
London Credit Fund was established by Consulco in 2021.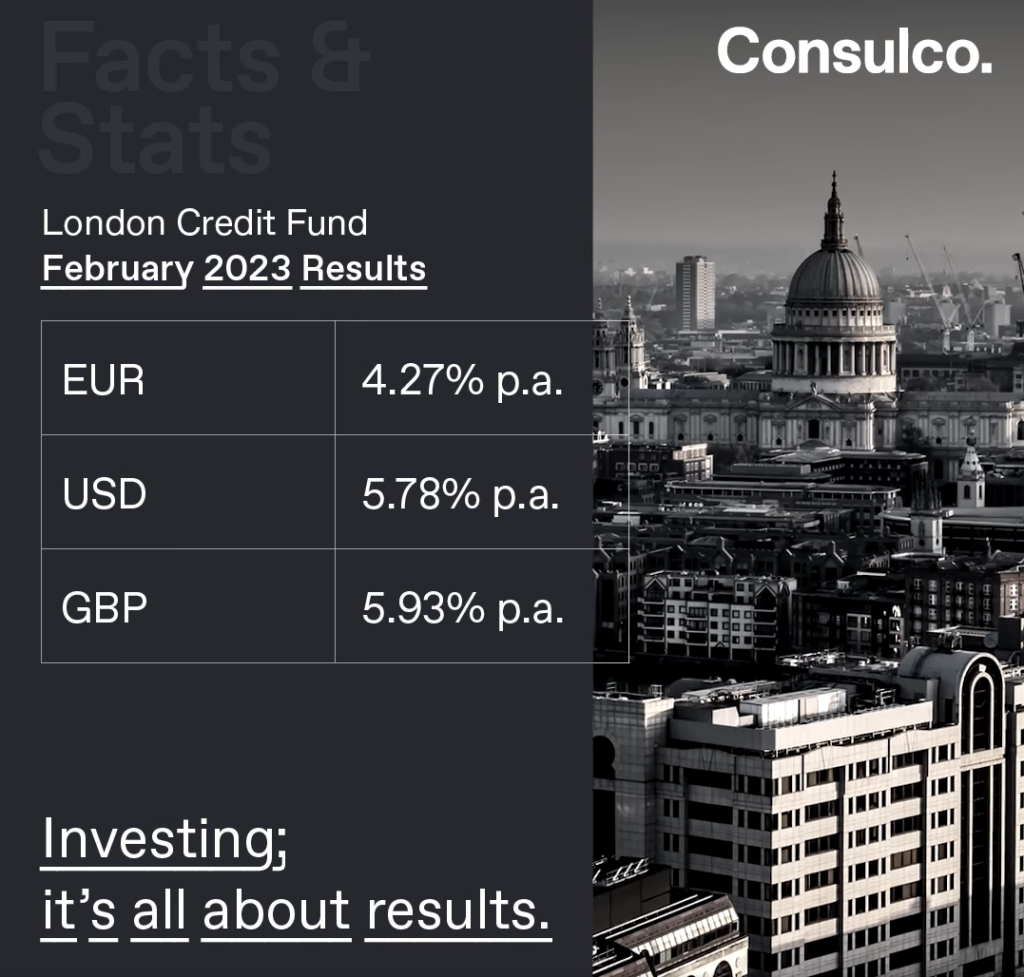 The organisation, regulated by the Cypriot Securities and Exchange Commission, is a private equity open-ended fund with variable capital.
London Credit Fund invests in short-term investment loans in the United Kingdom, secured against properties of a higher value, most of which are located in London.
Property in the United Kingdom – particularly in London – is considered one of the prime assets globally, with strong long-term demand from domestic and foreign investors.
Specifically, the fund provides investors with fixed returns of 4%+ on the euro and 5%+ on the sterling and dollar over a short-term horizon of 12 months – the investment capital being collateralised by London properties of higher value.
The minimum investment is €125,000, with a minimum lock-up term of 12 months. Redemptions are made monthly with a six-month notice, and dividends are paid to investors quarterly.
Due to its competitive advantages, the London Credit Fund is promoted by banking institutions and other investment service providers.
It is, therefore, no coincidence that the London Credit Fund currently consists of wealthy private investors, banks, insurance companies, as well as pension and provident funds, precisely because it is recognised as an ideal choice for investments in London with stable yields at relatively low risk, against today's general climate of volatility and uncertainty.
For a group to achieve its goals, it is necessary to have experienced professionals in its ranks and to operate with professionalism within the appropriate market and legal framework.
It is worth noting that over the past 12 years, despite Brexit (2016), the Covid-19 pandemic (2020) and high inflation and interest rates (2022), the profits and dividends of London credit investors have remained stable.
By Michalis Tannousis
Director of Investment Services, Consulco Group