Tesla delivered nearly 1.3 mln vehicles in 2022, a remarkable milestone for the relatively young carmaker, which is almost as many vehicles as the company had delivered in the previous eight years combined.
The electric vehicle giant has accomplished a significant feat in the automobile industry, according to data compiled by StockApps.com.
"The feat is a testament to Tesla's growth and the increasing popularity of EVs. Tesla is gradually transforming the automobile industry," said Edith Reads, StockApps specialist.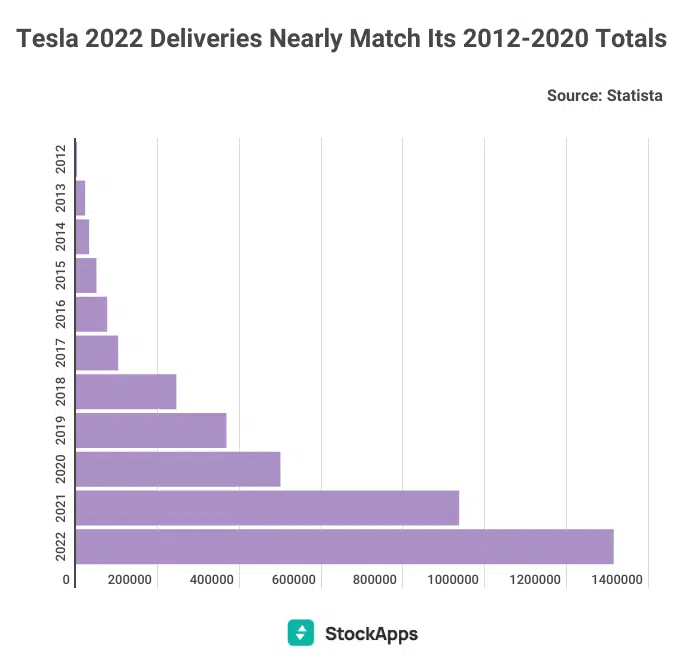 "With climate change being a worldwide concern, people are looking for vehicles with solutions," she added.
Tesla's delivery figures for 2022 were impressive by any measure. The company broke its record, and it only fell short by 85,000.
Model Y most popular
Tesla's Model Y SUV was the most popular vehicle in its line-up, delivered in 2022.
The Model 3, Tesla's entry-level sedan, was also a top seller; there were over 10,877 deliveries in Australia alone. Tesla's newer models, the Cybertruck and the Roadster will hit the market in the coming years.
The strong delivery figures in 2022 are due to several factors.
Increased demand for EVs, expanding production capacity, and the firm's focus on improving its supply chain.
However, Tesla has ambitious expansion plans for the future, and faces several challenges as well, mainly from newcomer rivals in the EV market.