February 24, 2023, marks one year since Russia's illegal war of aggression against Ukraine began.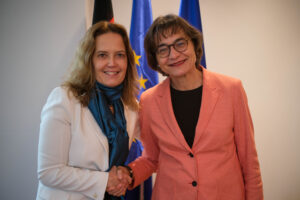 On this day, we, the undersigned Ambassadors of France and Germany in Nicosia, representing States fully adhering to the rules-based world order of international law, stand in full solidarity with Ukraine and the suffering Ukrainian people.
We condemn in the strongest possible terms the illegal, unprovoked and unjustified aggression by Russia against Ukraine.
We will continue to offer any support and help to Ukraine for as long as it takes.
Russia's war of aggression set a dangerous precedent from the point of view of international law.
Instead of following the rules-based world order and the principles enshrined in the United Nations Charter, those actions threaten to bring us back to the "law of the strongest" in which no state can be safe, in which imperialism strives.
Unlike Russia, we rely on the strength of international law and an international order based on it.
This war has brought immeasurable suffering to the people of Ukraine.
Russian troops have committed serious war crimes: Cluster bombs on peaceful civilians, torture prisons in dark basements, and the abduction of Ukrainian children by the thousands. Mariupol, Butcha, and Izium are names that will remain associated with horrors in everyone's memory.
For the last few months, Russia has also been multiplying the strikes on key civilian infrastructures, putting millions of Ukrainians in the darkness and the cold.
Russia has also been weaponizing energy and food, deliberately accepting that people around the world will suffer the consequences of an act of blackmail.
The Russian war of aggression has led to global shortages in the supply of oil, gas, grain, and fertilizers.
This affects all of us, but especially the most vulnerable.
Facing those unprecedented challenges and determined to stand by Ukraine's legitimate rights, we have collectively been raising to the challenge in the past year.
Our strategy in dealing with Russia did put a particular focus on swiftly adopting and applying sanctions, aimed primarily at limiting Russia´s ability to continue its war of aggression.
The European Union has been showing resolve in unity, with now the most all-encompassing sanction package ever enacted, both targeting individuals and key entities in putting restriction on a number of strategically important sectors for Russia's military machine.
In doing so, we are demonstrating: Russia must not force territorial gains through violence against the sovereign neighbouring State of Ukraine or any other sovereign State and at the expense of the global community.
The impact of the sanctions has been significant.
We stand in solidarity with Ukraine and the Ukrainian people.
As in the past year, we continue our political, military, humanitarian and financial support of Ukraine.
This includes humanitarian assistance and winter aid to the needy people of Ukraine.
This also includes arms deliveries, including setting up the EU´s first military assistance mission EUMAM.
Brutal war
We have taken unprecedented steps to support the many Ukrainians, primarily women and children, seeking refuge from this brutal war on our continent.
This way, several thousands of Ukrainians have been welcomed in EU countries, including Cyprus.
The people of Ukraine can rely on our solidarity and support.
Justice is paramount.
Those responsible for the atrocities and war crimes committed by Russia must be held accountable.
This is what we are working for: we have provided additional resources to the International Criminal Court to investigate war crimes and crimes against humanity, gathering evidence, particularly in the form of testimonies from Ukrainians.
Lasting peace remains our key objective.
Unfortunately, for now, there are no signs that Russia would be seriously interested in negotiations or an end to the brutal war against its neighbour.
We are supporting the aims of the 10 points peace plan proposed by President Zelensky and are looking forward to working on its basis to prepare for when a way out will be in sight.
We, the undersigned Ambassadors of France and Germany, reiterate our condemnation of Russia´s war of aggression.
We stand in full solidarity with Ukraine and the Ukrainian people.
We are committed to supporting Ukraine and the Ukrainian people in the long run, offering any help for those suffering from the war and being forced to flee from their country.
We will not only continue to support Ukraine´s reconstruction but also the path for a just peace based on respect for Ukraine´s sovereignty and territorial integrity.
By Salina Grenet-Catalano, French Ambassador to Cyprus and Anke Schlimm, German Ambassador to Cyprus
Ruslan Nimtschynskyj, Ukrainian Ambassador to Cyprus, has aligned himself with this statement