One of the most brutal years for the crypto industry, as trading volume slumped and prices drowned in the aftermath of 'crypto winter', has also had a huge impact on the mining companies, which lost billions of dollars in their stock values.
According to data presented by BitcoinCasinos.com, the world's five largest crypto mining companies collectively lost $5.2 bln in market cap, year-over-year.
Crypto mining stocks, represented by the Amplify Transformational Data Sharing ETF (BLOK), dramatically underperformed the broader market last year.
According to Yahoo Finance, BLOK provided a total return of -54.3% last year, deep below the S&P 500's total return of -19.44%.
The melting stock prices of crypto mining companies led to colossal market cap drops.
The Ycharts data showed the combined market cap of Riot Blockchain, Marathon Digital Holdings, Canaan Inc., Cipher Mining Technologies, and Hut 8 Mining, the world's five largest crypto mining companies, amounted to over $8.5 bln in January last year. Over the past twelve months, this value slumped by 61% to below $3.3 bln.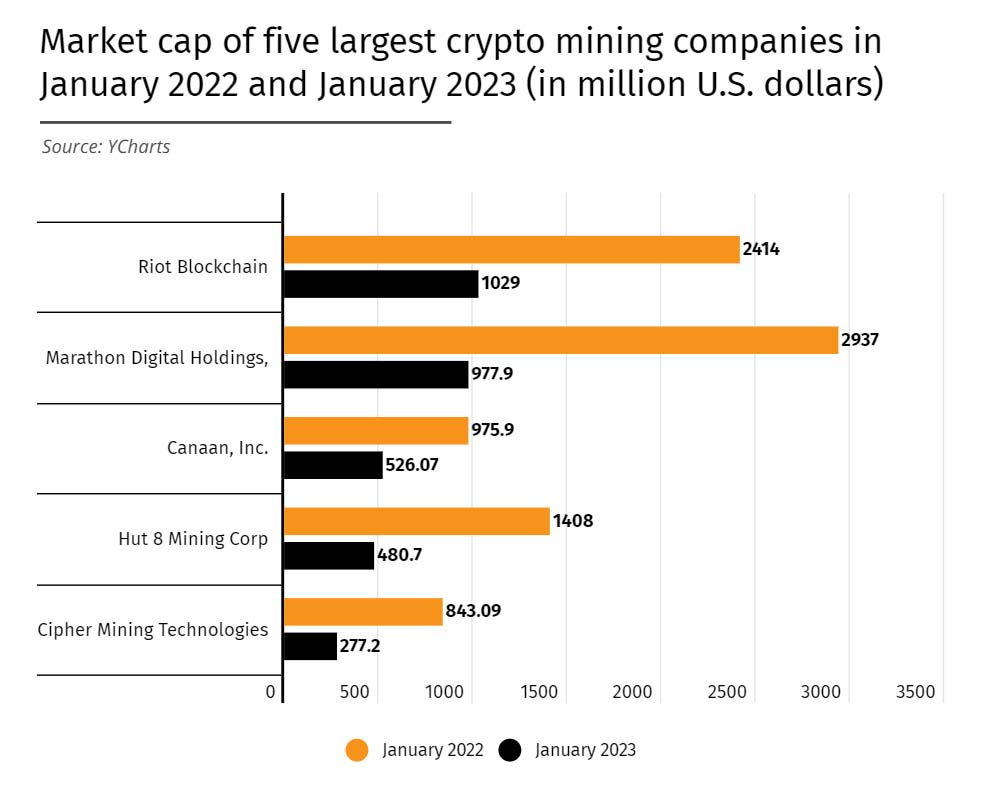 The world's largest crypto miner, Riot Blockchain, has lost 57% or around $1.3 bln of its stock value year-over-year.
Still, that was 11% less than Marathon Digital Holdings, the second-largest company in the market. In January 2022, the stock value of the Las Vegas-based crypto mining company stood at close to $3 bln, and now it's less than $980 mln.
Double-digit drop
Although all five crypto mining companies suffered a double-digit market cap drop, Chinese Canaa Inc. saw the least damage. Statistics show that Canaan's market cap dropped by "only" 46% year-over-year, with the company losing around $450 mln in stock value.
On the other hand, New York-based Cipher Mining Technologies saw the biggest drop, with its stock value slumping by 67% year-over-year and $565 mln being wiped off its market cap. Hut 8 Mining stands close, with a 65% YoY drop to $480.7 mln.
Besides its biggest players losing billions of dollars in stock value, the crypto mining industry has also witnessed a considerable drop in revenues.
In January 2022, the miners' average daily revenue amounted to $41.1 mln, revealed the Blockchain data. By June, this figure nearly halved to $27.9 mln, reflecting the Bitcoin price drop.
However, July saw only $18.2 mln in daily mining revenues, which continued floating around this value in the following months before falling to 2022's low of $15.5 mln in December.
Although this figure rose marginally to $15.7 mln as of last week, this still represents a massive 61% drop year-over-year.