Electric vehicle (EV) manufacturer Tesla is undergoing a turbulent moment recording a sharp decline in market capitalisation, as the company battles internal and external factors threatening its market dominance.
One key driver has been CEO Elon Musk's battle and eventual $44 bln acquisition of social media platform Twitter.
Data compiled by Finbold indicates that in 2022 Q4, Tesla's market capitalisation as of December 26 stood at $388.87 bln, a drop of 52.87% or $436.32 bln from the $825.19 bln market cap recorded on October 1.
Thus, Tesla's capital outflow of $436.32 bln in the last quarter of the year surpassed the total capitalisation of its top ten competitors.
The competing EV manufacturers accounted for a market cap of $280.78 bln in 2022 Q4. Therefore, Musk's Tesla lost 55.39% more in 2022 Q4 capitalisation than the cumulative market cap of ten leading electric vehicle manufacturers.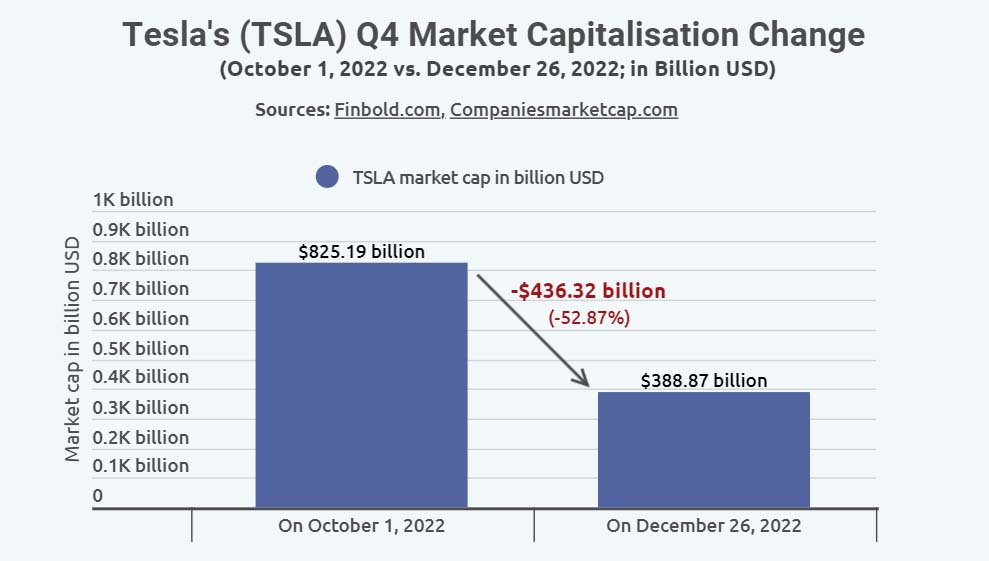 Leading EV competitors include BYD, with a market cap of $92.84 bln, followed by Stellantis ($45.14 bln), Great Wall Motors ($30.01 bln) and SAIC Motor ($24.55 bln).
Other notable competitors include Li Auto ($19.20 bln), NIO ($18.32 bln), Rivian ($16.90 bln), GAC ($13.96 bln), Lucid Motors ($11.25 bln), and XPeng completing the top ten with $8.61 bln.
Triggers for Tesla's drop
The Finbold survey tried to explain some triggers behind the drop in Tesla's market capitalisation.
"The prospects of Tesla have been weighed down by soaring inflation, aggressive Federal Reserve interest hikes, geopolitical tension, and the prevailing fears of a possible recession," explained the study's author, Justinas Baltrusaitis.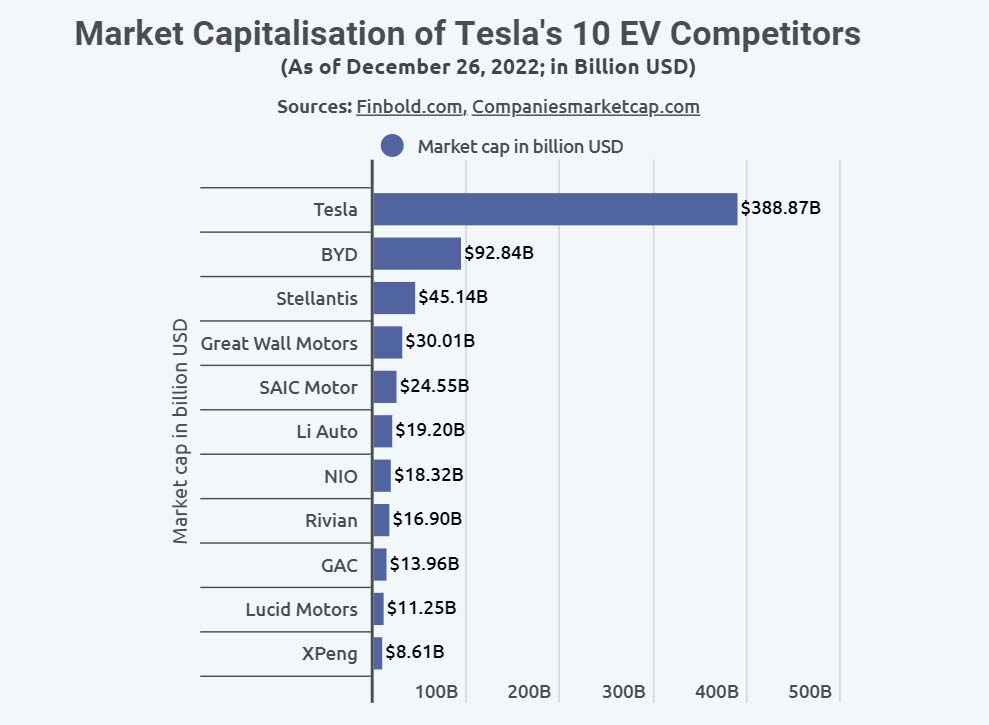 "Following the sharp drop, critics of the company have also maintained that the stock is undergoing a bubble burst after skyrocketing in 2020 to new all-time highs. Overall, the macroeconomic factors have likely pushed jittery investors to dump their stocks amid concerns about extended economic decline."
Overall, Tesla's market capitalisation recovery will rely on several factors, with improving economic prospects ranking among the top.
Furthermore, Elon Musk has faced backlash from disgruntled shareholders who accuse him of abandoning the EV manufacturer in pursuit of managing Twitter.
In recent months, it has been perceived that Musk has focused more on running his new acquisition, with Tesla shareholders calling for a full-time CEO. In this line, Musk announced he plans to step down from the Twitter role once he finds the right replacement.