Although digital coins have brought sizable investment returns since the beginning of the year, some investors poured money into the crypto market much earlier and watched their investments grow over time.
According to data presented by BlockArabia.com, a $1,000 investment in one of the fastest-growing cryptos in 2021, Binance Coin (BNB), four years ago would be worth over $427,000 today, bringing a whopping 42,600% gain.
Price Soared 427 Times Since September 2017
Considered the world's fourth-largest cryptocurrency after Bitcoin, Ethereum and Cardano, Binance Coin was released in July 2017 and priced at $0.10, with a maximum supply of 200 million BNB tokens. By the end of that year, its price surged by 684% to $7.84, already making it a successful investment.
Assuming an investor bought $1,000 worth of BNB tokens on September 9, 2017, they would have picked up 1000 coins priced at around $1. Two years later, in September 2019, Binance Coin's price soared by more than 2,000%, turning that $1,000 investment into $21,900.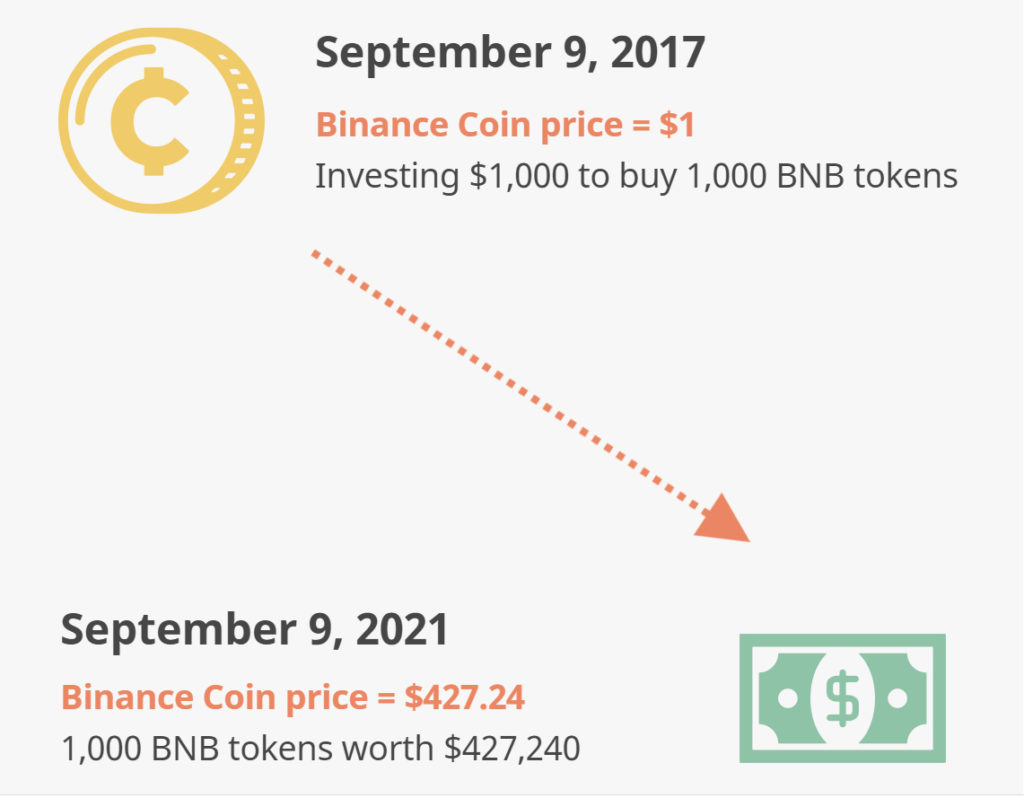 After a deep price fall in the first months of 2020, the price of BNB tokens quickly bounced back, reaching $38.10 by the end of the year.
However, after an outstanding performance throughout the last year, Binance Coin's price exploded in 2021. In the first three months alone, it soared by 720% to $315.50 and continued rising. On May 10, it hit an all-time high of $683, turning that $1,000 investment into $683,000.
Although Binance Coin's price has dropped significantly since then, reaching $427.27 at the end of the last week, that is still 427 times more than its price from September 2017.
Market cap increase 20x bigger than Bitcoin
The CoinMarket Cap data also showed Binance Coin was the only cryptocurrency, besides Solana, Dogecoin and Cardano, to witness a four-digit market cap growth this year.
In the first five months of 2021, the market cap of the world's fourth-largest crypto coin soared by 1,800%, reaching an all-time high of $104.9 bln on May 10. However, after the crypto price crash, this figure plunged by 63% in just two weeks, falling to $37.9 bln in the third week of May.
Statistics show the combined value of BNB tokens significantly recovered since then and hit $71.9 bln at the end of the last week, showing a massive 1,200% jump YTD which is twenty times more than the growth rate of Bitcoin in this period.