The cost of bricks jumped by a quarter last year, together with other construction materials, driven by the Covid-driven slowdown in global supplies, as well as the drop in crude prices that impact the production of asphalt.
According to the Cyprus statistical service Cystat, the monthly Price Index of Construction Materials for December 2020 reached 102.18 units, up 1.26% from the previous month.
Cystat explained that prices of materials are based on actual prices paid by contractors, rather than list prices.
The index also recorded a similar increase of 1.26% compared to December 2019.
By main commodity category, year-on-year increases in monthly prices were recorded in metallic products (3.27%), electromechanical products (1.77%), mineral products (0.41%) and products of wood, insulation materials, chemicals and plastics (0.22%), whereas decreases were recorded in minerals (-0.24%).
However, for the whole year, the index recorded a decrease of 0.42% in January-December 2020, compared to 2019.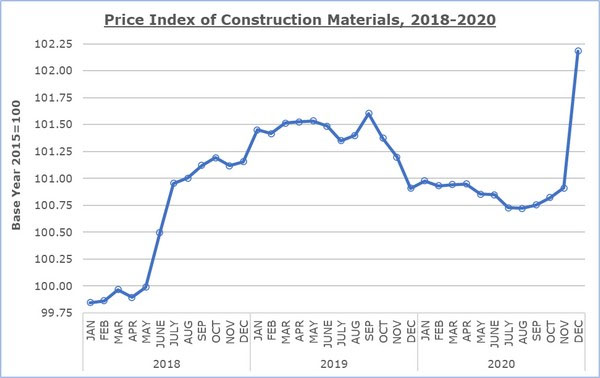 The decrease of the index in 2020 over the previous year is mainly due to the decrease in the prices of bitumen asphalt (-19.38%), building iron (-9.42%), structural grid (-4.42%) and asphalt concrete (-3.24%).
On the other hand, some materials recorded an increase in their prices compared to 2019, probably driven by the closure of production plants in 2020 because of the COVID-19 lockdown in many industrial economies, as well as the limitations imposed on the shipping sector, that carries about 85% of world cargo.
Last year's most significant price increases compared to 2019, were bricks (+23.48%), iron rails (+6.97%), outlets, switches, fuses, and insulators (+3.45%), rails and Venetian blinds from aluminium (+3.37%) and structural steel (+2.01%).
PRICE INDEX OF CONSTRUCTION MATERIALS (DECEMBER 2020)
Code
Commodity category
Index

December 2020

(2015=100)

Percentage Change

 (%)

Dec 20 /

Nov 20

Dec 20 /

Dec 19

Jan-Dec 20 /

Jan-Dec 19

1
Minerals
99,80
0,00
-0,24
-1,49
11
Mineral aggregates
97,59
0,00
-0,36
-0,90
12
Cements
100,79
0,00
-1,39
-3,66
13
Stones
100,33
0,00
1,29
0,79
2
Mineralproducts
98,96
0,00
0,41
0,96
21
Cement products
99,04
0,01
0,61
0,05
22
Ceramics
98,72
0,00
-0,20
4,00
3
Products of wood, insulation materials, chemicals and plastics 
100,20
-0,01
0,22
0,30
31
Products of wood
99,49
0,00
0,66
0,67
32
Insulation materials
91,89
0,00
1,31
0,87
33
Chemical products
105,11
0,00
-0,57
-0,25
34
Plastic products
102,99
-0,08
-1,05
-0,71
4
Metallic products
108,57
3,98
3,27
-1,61
41
Iron and steel products
110,46
6,95
5,28
-3,09
42
Products from aluminium and other metals
106,13
0,23
0,69
0,35
5
Electromechanical products
98,95
0,70
1,77
0,18
51
Electrical fixtures
105,35
0,08
3,74
1,27
52
Heating and cooling equipment
90,74
2,54
0,81
-1,42
53
Other electromechanical products
99,64
0,00
0,64
0,35
General Index
102,18
1,26
1,26
-0,42
 Source: Cystat January 19, 2021