Passenger traffic across the European airport network increased by +12.1% in Q3 compared to the same period last year, according to airports body ACI Europe.
Despite higher airfares and enduring pressures from rising inflation, the summer months showed a robust performance overall.
Compared to pre-pandemic (Q3 2019) levels, passenger traffic in Q3 stood at -3.1%, marking a significant improvement over the first half of the year (-7.7%), signifying continued progress towards reaching 2019 traffic levels.
Milestones were reached during Q3 when London-Heathrow – Europe's busiest airport by passenger volume – surpassed its 2019 traffic performance for the first time since the onset of the COVID-19 pandemic, and nearly half of Europe's airports had recovered their 2019 traffic volumes (48%).
Olivier Jankovec, Director General of Airports Council International (ACI) Europe, said: "The peak Summer season has brought Europe's airports ever closer to a full recovery in passenger traffic, with demand largely defying inflationary pressures, much higher airfares and geopolitical tensions.
"But beyond positive headline figures, there were significant variations in traffic performance across both national and individual airport markets.
"These reflect the impact of the war in Ukraine and, more generally, structural changes in the aviation market.
"Leisure and blended demand is king, still predominantly focused on intra-European and transatlantic routes – and very much driven by capacity expansion from Ultra-Low Cost Carriers.
"Unlike airlines which have been flexing their pricing power and posting record profits, airports are still struggling to reflect inflationary pressures into their user charges – and their profitability remains below what is needed to meet investment needs."
EU+ MARKET SHOWING STRENGTH
In Q3, EU+ airports came close to their 2019 passenger traffic levels, standing just -4.2% below.
It is now catching up with the rest of Europe2 (+2.9%), which previously outpaced its air traffic recovery.
Compared to the same period last year, the EU+ market (+11.9%) and the rest of Europe (+13.1%) saw passenger traffic increase similarly in Q3.
COUNTRY PERFORMANCE
Among EU+ airports, the best passenger traffic recovery in Q3 to 2019 levels came from airports in Luxembourg (+13.3%), Greece (+12.9%), Portugal (+11.0%), Malta (+6.5%), and Croatia (+6.4%).
At the other end of the spectrum, impacted still by the war in Ukraine and the closure of Russian airspace to EU airlines, airports in Finland (-32.8%) remained well below their pre-pandemic passenger traffic levels.
Other EU+ countries that also lagged in their recovery and remained more than 15% behind their 2019 Q3 levels included Slovenia (-26.1%), Sweden (-21.1%), Bulgaria (-19.6%), Germany (-18.3%), Latvia (-16.8%) and Czechia (-15.6%).
Among the larger countries, Türkiye's airports have outperformed their 2019 third-quarter levels by +6.0%, while Russian airports reported at -0.6%.
Airports in Israel (-0.1%) were about to achieve a full recovery to their pre-pandemic (Q3 2019) levels, a performance now compromised by the conflict that erupted last month.
Notable strong performers in the region include airports in Albania (+114.9%) buoyed by Ultra-Low Cost Carriers' expansion – as well as airports in Uzbekistan (+99.9%), Armenia (+70.9%) and Kazakhstan (+46.3%), all benefitting from traffic shifts in the wake of the war between Russia and Ukraine.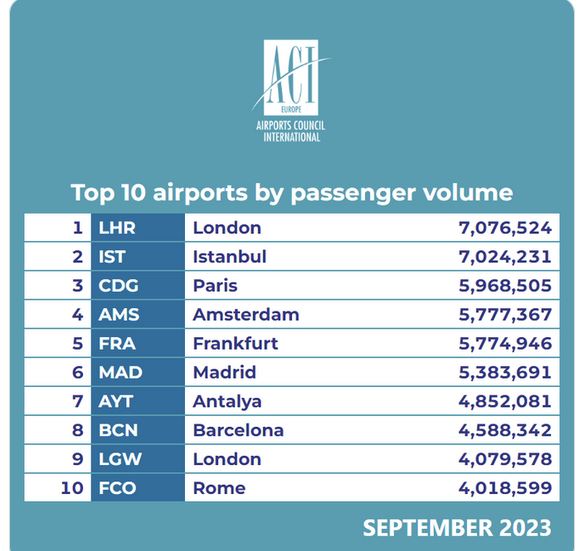 RECOVERY PATTERNS
Passenger traffic at the Majors (top 5 European airports) grew by +14.7% in Q3 compared to last year but still lagged -4.7% below their pre-pandemic levels of Q3 2019.
London Heathrow secured its top position during Q3, with a remarkable +22.9% year-on-year increase in passenger traffic.
It exceeded its 2019 levels primarily due to a robust performance in September (+4.4%).
Istanbul came second, in a near tie, a mere 0.7% behind Heathrow – separated by less than 200,000 passengers.
Its passenger traffic surged by +10.8% when compared to Q3 2021 and stood at an impressive +14.1% above its pre-pandemic (Q3 2019) levels.
Paris-CDG held a solid third place, with traffic increasing +9.5% year-on-year and at -12.2% below its pre-pandemic (Q3 2019) volume Amsterdam-Schiphol (+13.6% year on year -10.9% versus Q3 2019) and Frankfurt (+16.9% year-on-year | -14.1% versus Q3 2019) placed in the fourth and fifth positions, respectively.
The passenger traffic performance of selected other large airports in Q3 also reflected a summer recovery largely relying on intra-European and transatlantic routes, dominated by leisure demand and very much driven by Ultra-Low Cost Carriers' expansion:
Athens (+10.2%), Istanbul-Sabiha Gökçen (+8.2%), Lisbon (+5.6%), Paris-Orly (+8.7%), Palma de Mallorca (+2.9%), London-Stansted (+1.3%), Dublin (+1.0%)and Antalya (+0.9%) all surpassed their 2019 Q3 levels.
While still remaining –5.2% below its pre-pandemic (Q3 2019) volumes, the recovery of Rome-FCO accelerated as the Italian hub achieved the fastest year-on-year growth among the top 20 airports, with a remarkable +26.1%.
TRAFFIC MOMENTUM
In September, passenger traffic across the European airport network stood at +12.1% above 2022 levels and at -3.0% compared to 2019.
Airports in the EU+ market continued to improve, reaching -3.9% relative to September 2019. Airports in the rest of Europe registered a +2.0% surge above September 2019.