The world's five highest-paid athletes, led by Cristiano Ronaldo, took home pre-tax gross earnings of $616 mln, $60 mln more than last year, according to data presented by SportsLens.com.
For years, the world's highest-paid athletes have been making hundreds of millions of dollars through their heavy contracts and endorsements, but 2023 set a new record.
The Middle-Eastern cash flowing into some of the world's highest-paid sports, like football and golf, has helped athletes make more money than ever.
The on and off-field rivalry between Cristiano Ronaldo and Lionel Messi has driven a significant portion of the incredible football salaries growth, despite the duo edging closer to retirement.
But the arrival of Cristiano Ronaldo to Al-Nassr took the whole thing to a new level, making him the highest-paid player in the game and the highest-paid athlete in 2023.
Mbappé saw biggest earnings increase of 145% y-o-y
According to the Forbes data, the five-time Ballon d'Or winner made $46 mln in salary and another $90 mln through endorsements between May 2022 and May 2023, more than any other athlete.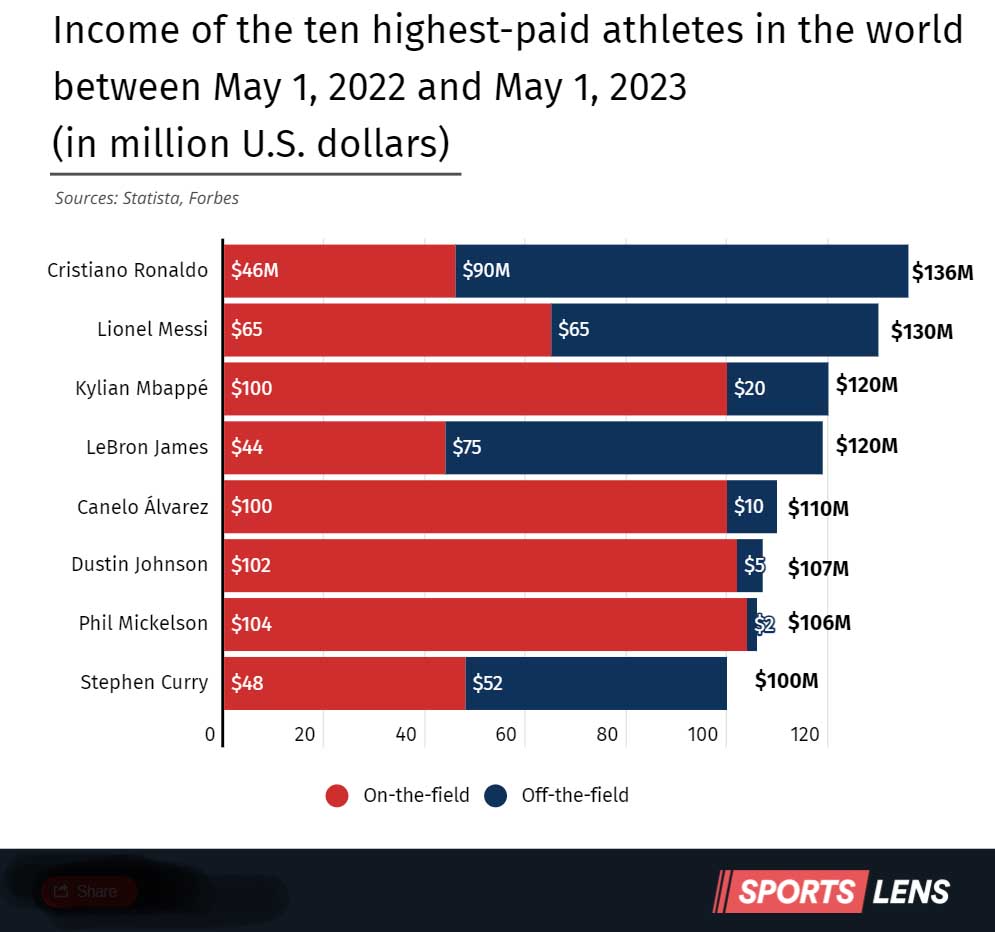 Also, statistics show that Ronaldo's heavy contract with the Saudi Arabian football club has helped him grow his annual earnings by an impressive $21 mln.
The 2022 World Cup winner, Lionel Messi, earned $130 mln in 2023, $8 mln more than last year, ranking as the second highest-paid athlete in the world.
Kylian Mbappé, who earned $120 mln through player salary and endorsements, ranked third on the Forbes list. However, the Paris Saint-Germain star saw the biggest annual earnings increase among the top five of a massive 145%.
Last year, the French footballer earned $48.8 mln, 2.5 times less than in 2023.
On the other hand, basketball star LeBron James saw his annual earnings drop this year.
In 2022, NBA's all-time scoring leader grossed almost $127 mln through salary and endorsement, or $7 mln more than this year, causing him to drop from the first to fifth place on the Forbes list.
Just like the last year, the Mexican professional boxer, Canelo Álvarez, ranked as the fifth highest-paid athlete in the world. Still, his annual earnings grew from $89 mln in 2022 to $110 mln in 2023.
Cristiano Ronaldo has highest off-field earnings
The Forbes data also gave an interesting insight into which athlete has the highest salary and who tops in endorsements and other off-field earnings.
The world's highest-paid athlete Cristiano Ronaldo took home the highest pay package off-pitch at $90 mln, coming through endorsements, licensing income, and appearances. This means the Portuguese superstar almost doubled his off-field earnings, which stood at $55 mln last year.
LeBron James has the second-highest off-field earnings, with $75 mln earned in addition to his gameplay. Still, that is $15 mln less than he earned through endorsements last year.
On the other hand, Kylian Mbappé and Canelo Álvarez have the highest salaries in the world of sports.
In 2023, Álvarez earned $100 mln through his salary, up from $84 mln a year ago.
The French footballer saw an even bigger increase, with his on-field earnings surging from $31.8 in 2022 to $100 mln this year.