Historically, April has been one of the strongest months for Bitcoin and other cryptocurrencies, bringing the biggest average monthly returns. However, this year, that wasn't the case, according to market surveys.
Although Bitcoin topped over $30,400 on April 18, reaching the highest level since early June, its monthly gain was only 3%, way down from 21% in March and much less than gains usually seen in the fourth month of the year.
The monthly trading volume of the most expensive crypto also significantly dropped, according to data presented by BitcoinCasinos.com, with Bitcoin trading volume sinking by almost $700 bln in April.
Double-Digit Trading Volume Drop
A significant drop in Bitcoin trading volume after its price surge may show investors adopting a wait-and-see approach or moving their capital to other cryptos.
According to CoinMarketCap data, Bitcoin's monthly trading volume amounted to $492.9 bln in April, or 58% less than almost $1.2 trln seen a month before.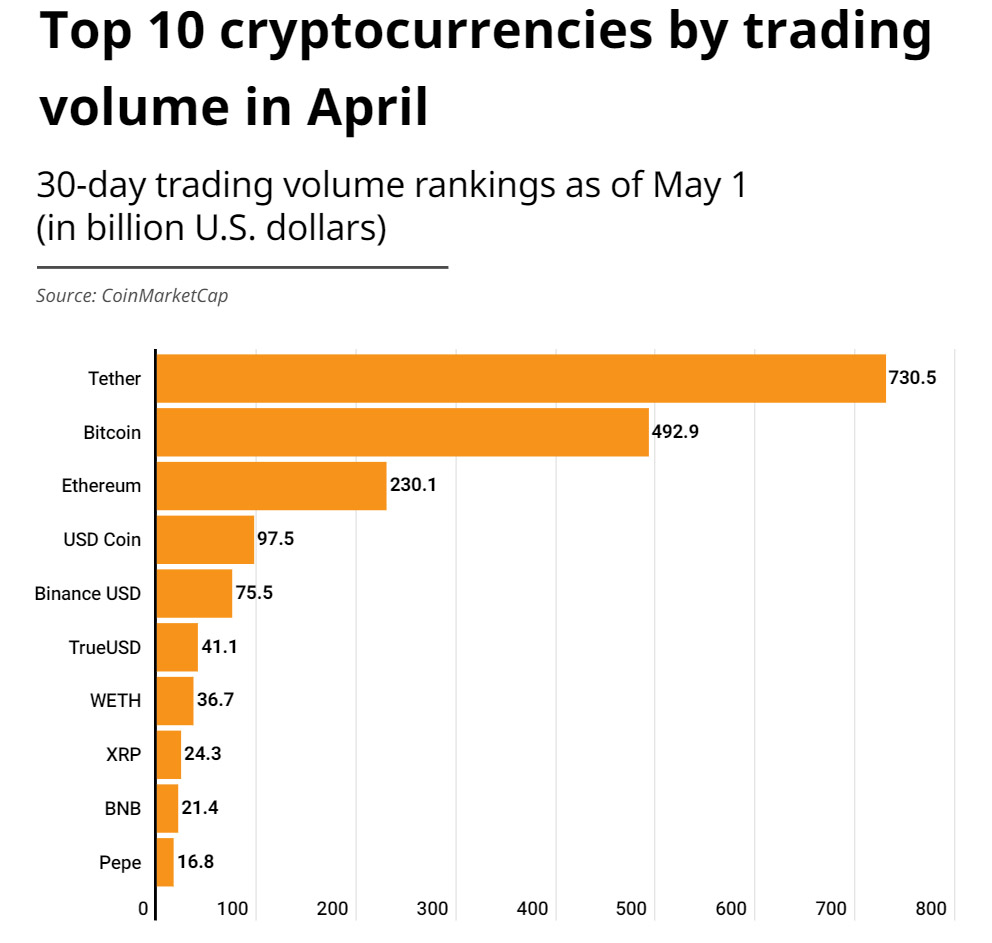 However, Bitcoin was not the only digital coin whose monthly trading volume declined in April, as statistics showed all major cryptocurrencies recording a double-digit drop.
Tether's trading volume was down by 38% month-over-month to $730.5 bln. Ethereum saw a 28% decline and around $230 bln in 30-day trading volume.
USD Coin, the fourth most-traded digital coin in the crypto space last month, saw a 38% decline and $97.5 bln in monthly trading volume.
Binance USD, as the fifth most-traded crypto in April, hit $75.5 bln worth of trades, or 28% less than in March.
XRP Plunged 74%, Biggest Drop Among Top 10
The CoinMarketCap data showed TrueUSD climbed to the sixth spot of the most-traded cryptos in April.
The USD-backed stablecoin saw $41.1 bln worth of transactions last month, four times more than Polygon and Solana and almost six times more than Dogecoin, which didn't even rank on the top ten list in April.
XRP slipped two spots and ranked as the eighth most-traded digital coin in the crypto space, with $24.3 bln in trading volume. Still, its monthly trading volume plunged 74% compared to March, showing the biggest drop among the top ten cryptos.
BNB and Pepe closed the top ten list, with $21.4 bln and $16.8 bln in 30-day trading volume, respectively.