Brands and individuals are increasingly focused on obtaining trademarks to protect future non-fungible token related products, with the rising popularity of NFTs presenting opportunities for businesses seeking to integrate the virtual worlds into their operations.
As the sector continues to take shape, the United States Patent and Trademark Office (USPTO) received 1,263 NFT related trademarks in 2021, according to data acquired by the Finance in Bold platform Finbold.
The figure represents a 421-fold growth from the three filings in 2020. The highest trademark filing was in December at 407, while January had zero trademarks.
Following the increasing potential of NFTs, the filings have spiked in the last six months to record a growth of 552.17% between August 2021 and January 2022.
Elsewhere, January 2022, registered a record filing total of 450, which translates to about 15 applications per day. From February last year, the applications have grown by a whopping 11,150%.
Applications highlight NTF potential
The Finbold report's author Justinas Baltrusaitis identifies some of the drivers behind the spiking NFT trademark applications.
"The trademark application emerges when the NFT scene is attracting curiosity, excitement, skepticism, and enthusiasm over the potential prospects," he said.
"The filings point to companies and individuals' greater need to enter the blockchain space to protect their brands, banking on the sector's potential."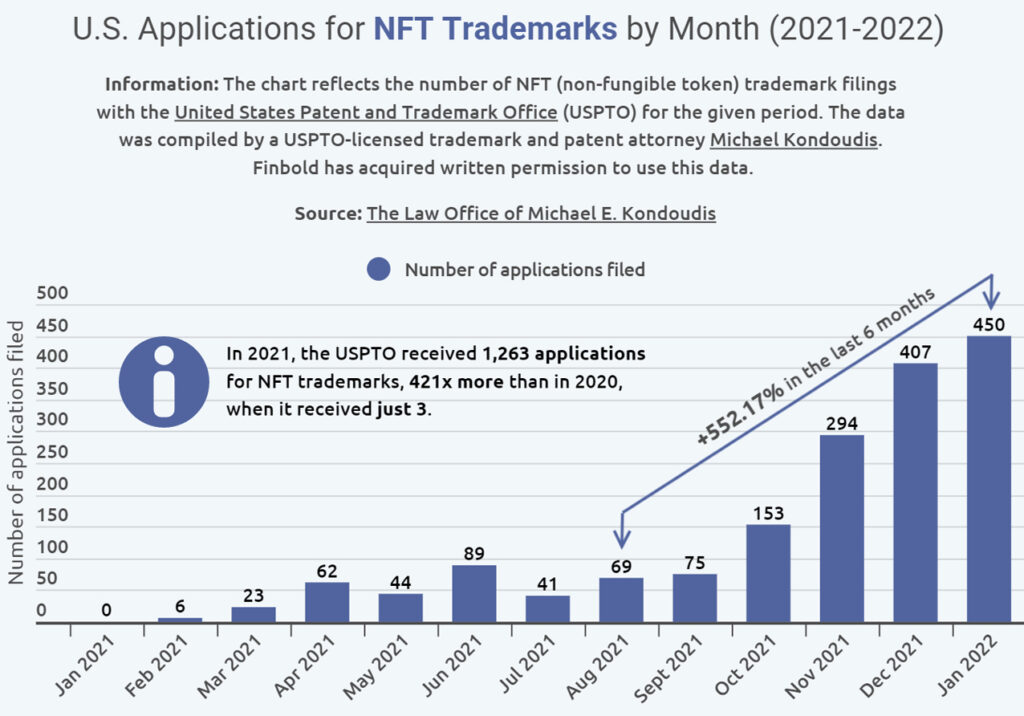 With attention focusing on virtual worlds, most brands are hoping that NFT trademarks can be the first step of engaging with consumers on a personalised level, Baltrusaitis explained.
Although the trademarks highlight the need by brands to get the NFT legal side in order, there are several concerns.
For instance, the regulatory compliance with NFT remains unclear and can potentially result in downside risks that might impact the utilisation of the technology.