Sales of petroleum products in Cyprus have taken off, as they recorded an increase of 24.9% in November 2021, compared to the same month in 2020, with 115,658 tonnes of fuels sold, according to data from the island's Statistical Service.
The boost in sales was mainly driven by the aviation sector, which had been grounded for most of 2020 due to COVID-19 restrictions and lockdowns.
Specifically, Cystat said there was an increase in fuel supplies for aircraft (284.6%) and ships (38.4%), as well as sales of 'light mazut' fuel oil (97.6%), asphalt (29.5%), gasoline (13, 3%), heavy fuel oil (5.3%) and diesel (3.1%).
On the contrary, there was a decrease in sales of heating diesel (-24.1%) and kerosene (-44.3%).
Motor fuel sales were up 3.9%, accounting for 54,306 tonnes of fuel sold.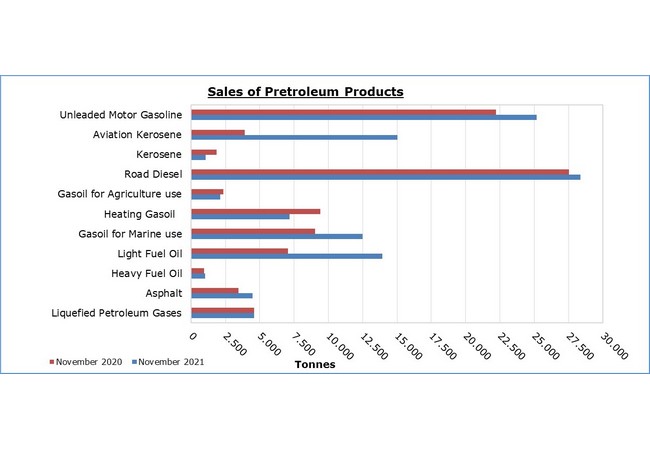 The increase comes amid reactions to rising fuel costs, despite a slow but steady decline in international markets.
Month on month, total sales of petroleum products in November 2021 compared to October decreased by 12.6%.
Indicatively, the supplies of aviation fuel recorded an increase of 2.2%, while the sales of gasoline decreased by 5.7% and of diesel by 3.0%.
During the January – November 2021 period, total sales of petroleum products increased by 5.2%, compared to the corresponding period of the previous year.
The figures relate to sales of petrol based products by petrol stations and sales to government departments, British bases and the United Nations, to ships and other customers.
According to Cystat, only petroleum companies are covered. The survey also includes imports of petroleum products by the Electricity Authority of Cyprus (EAC) and the manufacturing industry.