With the United States economy facing uncertainty due to the long-term impact of the pandemic and other factors like skyrocketing inflation, the stock market appears to be thriving. The market's growth is exhibited by the valuation that has continued to surge in 2021.
According to data acquired by Finbold, in the first three quarters of 2021, the U.S. stock market value hit $48.57 trillion, growing 19.22% compared to 2020's full year valuation of $40.74 trillion. Therefore, the market added $7.83 trillion in capital this year alone.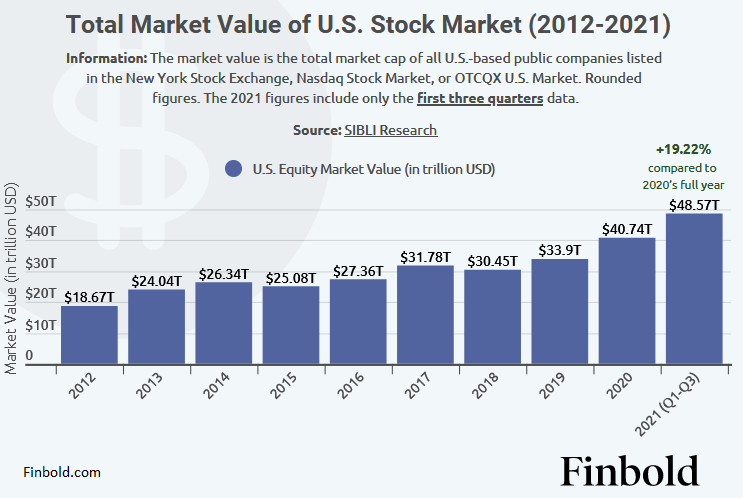 In 2019, the valuation stood at $33.9 trillion while in 2018 the market had a value of $30.45 trillion. Over the last decade, the valuation has steadily surged 160.15% between 2012 and 2022.
Consumer confidence
The report highlights some of the implications of the growing stock market valuation in relation to investor confidence. According to the research report:
"With investors pumping more money into the stock market, it points to confidence in the stability of future investments. In this case, investors are more likely to purchase stocks if they are convinced their shares will increase in value. However, if there is a reason to believe that shares will perform poorly, more investors will be looking to sell."
The confidence in the market shows that investors are still hoping to reap big in future despite the existence of other alternatives like cryptocurrencies.
However, the valuation does not necessarily point to a bullish future, especially with the continued uncertainty around the economy. Currently, as the economy continues to recover from the pandemic, the threat of the new Covid-19 variant should make investors approach the market with caution.