Worldwide wealth creation remained largely unaffected by the COVID-19 last year, with the pool of millionaires expanding once again, despite the pandemic having a devastating economic impact on economies around the world.
According to data presented by BlockArabia.com, more than 5.2 million people joined the millionaire club amid the pandemic, and one-third were from the United States.
The pandemic has been good news for the super-rich individuals, with the number of millionaires rising to 56 million in 2020, up from 50.8 million in 2019, revealed a Credit Suisse report. Despite the COVID-19 effects on the world economy, the global household wealth climbed 7.4% to $418.3trn in 2020.
The United States saw the biggest gains, adding 1.73 new millionaires last year. Also, statistics show America's wealthiest individuals saw their collective fortune surge by $1.2trn since the onset of the crisis.
As the second country on this list, Germany saw its millionaire club increase in size by 633,000. Australia ranked third with 392,000 new millionaires, 2,000 more than Japan. France and the United Kingdom follow, with 309,000 and 258,000 increase, respectively.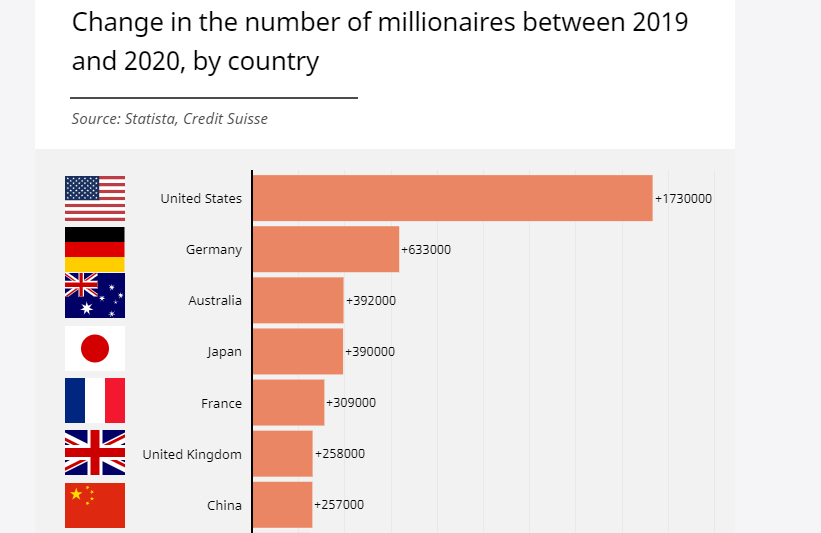 Although ranked as the second-leading country by the total number of millionaires, China saw much smaller gains than these five countries. In 2020, 257,000 Chinese joined the millionaire club, 30% less than Japan or Australia or 2.5 times less than Germany.
The Credit Suisse report also showed the year 2020 was not good for millionaires in all countries. Brazil and India registered falls of 108,000 and 66,000, respectively, primarily due to currency depreciation.
Nearly Half from the US and China
As the world's leading millionaire country, the United States has 22 million millionaires or 39% of the globe's total. This is four times more than China, which is in second place with 5.3 million or 9.4% of all global millionaires.
Statistics show the percentage in third-placed Japan steadily dropped over the years to 6.6% in 2020, and its position is now threatened by Germany, which had 5.3% of global millionaires last year.
The United Kingdom and France follow with a 4.4% share. Statistics show Spain, Korea, the Netherlands, and Switzerland each host around 2% of global millionaires. India, Taiwan, and Sweden follow with 1% each, respectively.