Tesla has consistently stood at the forefront of electrification, autonomy, and futuristic design, with its Cybertruck emerging as one of the products that are redefining conventional perceptions of a pickup truck.
With the vehicle's distinctive design and advanced technology, it has continued to record an unprecedented wave of consumer interest, according to data acquired by Finbold.
As of July 2023, the number of Cybertruck reservations stood at 1,943,876, a growth of nearly 80%, or 859,676 units, compared to 1,084,200 in May 2021. This translates to an average of 1,102 Cybertruck reservations daily over the past two years.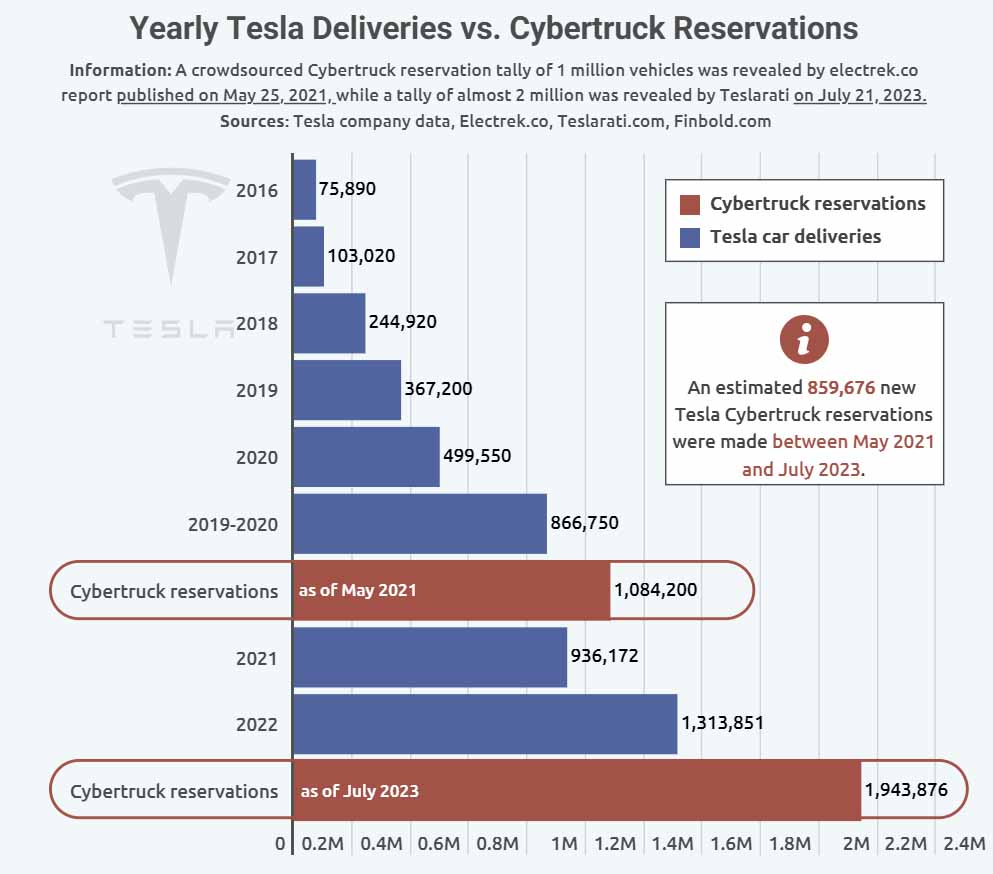 Moreover, these figures align with Tesla's delivery patterns for its other vehicle models, which have consistently risen.
In 2022, the electric vehicle manufacturer achieved a significant milestone by surpassing the one million mark in deliveries for the first time, reaching a total of 1,313,851.
This reflects a growth of 40% from the 2021 figure of 936,172. Therefore, the latest count has surpassed the amount of Tesla deliveries in a single year. Notably, between 2019 and 2020, the company delivered 866,750 vehicles.
Understanding the buzz
The market study identified some of the drivers behind the increasing interest in the Tesla Cyberstruck.
"The sustained buzz around the Cybertruck is primarily attributed to its disruptive nature. Electric vehicles have gradually gained traction in the market, and the Cybertruck represents Tesla's audacious attempt to infiltrate the traditionally conservative pickup truck segment," the market study said.
"Its promises of exceptional range, impressive towing capabilities, and acceleration could rival high-performance cars and allure to a broad spectrum of consumers."
Meanwhile, the question of whether these reservations can effectively be converted into concrete sales still lingers. Tesla is grappling with the formidable task of creating electric vehicles that genuinely resonate with the traditional trucker demographic.
This group has conventionally exhibited minimal enthusiasm for electric vehicles, introducing a significant hurdle for manufacturers across the board.