DBRS Morningstar Analysis
The outlook for the Republic of Turkey's presidential and parliamentary elections, which are scheduled on May 14, 2023, is highly uncertain.
For the first time since Tayyip Erdogan was elected Prime Minister two decades ago, Turkey's typically fragmented opposition has united against the ruling AKP Party. Turkey's weak macroeconomic backdrop – reflected in high inflation and a depreciating lira – have also weakened Erdogan's popularity.
Polls predict high voter turnout and a close race between Erdogan and Kemal Kilicdaroglu, the presidential nominee for the six-party National Alliance Bloc. The winning candidate needs 51 percent of the votes to be elected. Current polls suggest the two main contenders are likely to fall short of this threshold, in which case there will be a runoff on May 28.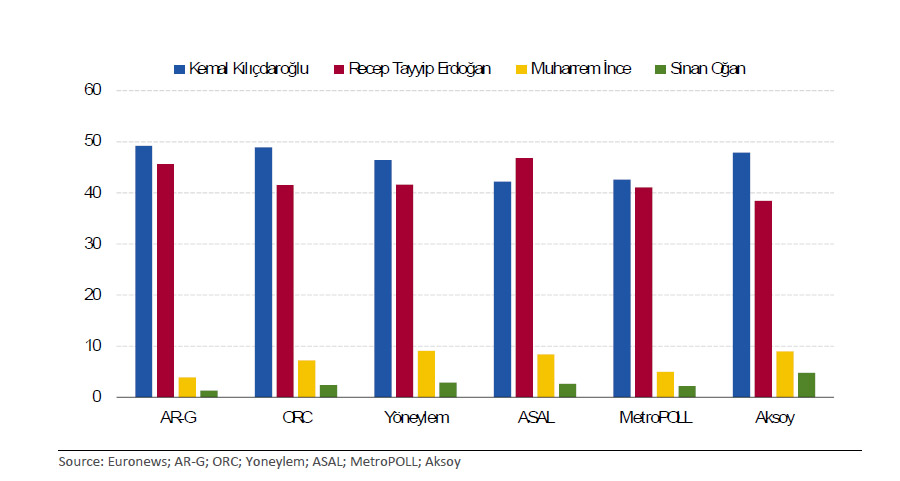 While the polls currently give the opposition a slight edge, there is a lot of uncertainty on how things could play out, both at the presidential and parliamentary level.
A clear win for Kilicdaroglu is likely to be perceived as signaling a return to orthodox economic policies. This could result, at least initially, in a relief rally for Turkish assets. However, other scenarios could make governability more difficult.
A narrow win for either candidate could potentially result in the results being contested and could stress Turkey' s governing institutions.
If control of the Presidency and of Parliament is split between the AKP and National Alliance Bloc, this may result in policy stalemates and pose additional challenges to the success of any macroeconomic adjustment.
Economic future
A majority of recent polls suggest that two decades of President Erdogan's dominant role in Turkish politics could come to an end. The opposition alliance's manifesto has promised to reverse many of Erdogan's policies, including a return to a parliamentary system and strengthening of the rule of law.
In terms of economic policy, the opposition is calling for a more orthodox macroeconomic policy mix, supported by measures such as greater central bank autonomy.
Without giving specifics on how, the manifesto of the ruling AKP party said that it aims to bring inflation down to single digits and stimulate annual GDP growth to 5.5% in the coming years (2024-2028).
Regardless of the election outcome, Turkey will likely need a substantial macroeconomic adjustment in the form of tighter monetary and fiscal policy given elevated inflation, large current account deficits and the need to rebuild forex reserves.
Turkey is a large economically diverse, upper-middle income country with nominal GDP of US$ 828 billion and favourable demographics.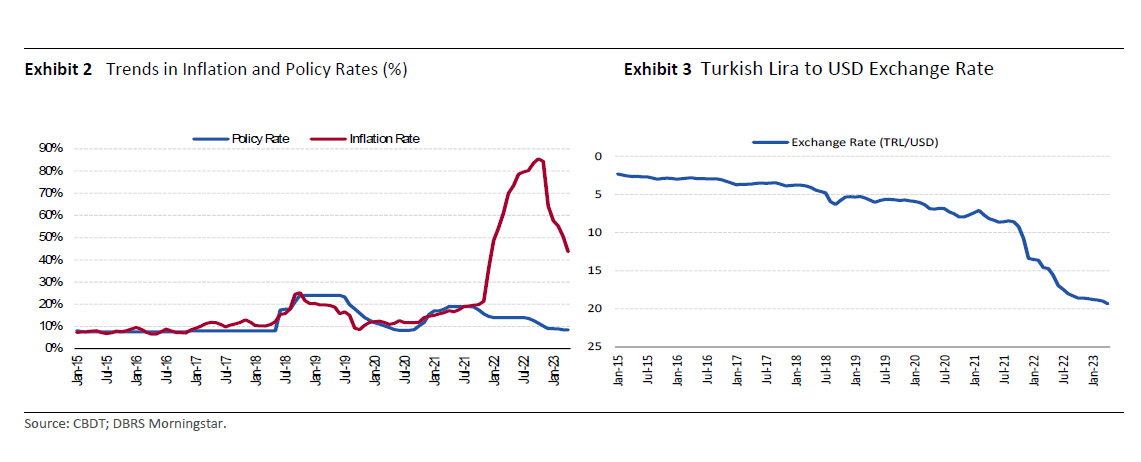 However, its growth model is dependent on externally-funded credit.
In the aftermath of the pandemic, the government adopted a new economic plan which involved a combination of low interest rates and a competitive exchange rate. This boosted economic growth to 11.3% in 2021 and to 5.6% in 2022, but these policies have exacerbated Turkey's pre-pandemic vulnerabilities.
Headline inflation, which averaged 12% in 2020, rose sharply over 2022 and remains elevated at 43.7% (April 2023). The lira, which averaged USD/TRY 7, is now trading close to USD/TRY 19 and could see further depreciation pressure.
The current account deficit has also worsened from 0.9% of GDP in 2021 to 5.4% of GDP in 2022. The tighter policies needed to facilitate the macroeconomic rebalancing, coupled with a challenging global backdrop, could result in sharply lower growth.
The IMF in its latest World Economic Outlook (WE0 April 2023), projects Turkey's growth moderating from 5.6% in 2022 to 2.7% in 2023 and 3.6% in 2024.
Notwithstanding the uncertain electoral outcomes in the weeks ahead, we conclude that whatever the political outcome of the upcoming elections, Turkey's macroeconomic challenges will remain severe.