Tesla is showing its resilience in the electric vehicle market by sustaining the number of deliveries during a period when the market has been affected by parts shortage and challenging economic conditions.
However, the American EV giant is also facing significant competition from traditional manufacturers that are venturing into the EV sector as part of holding their market position.
Data provided by Finbold indicates that among leading EV manufacturers, Tesla delivered 310,048 vehicles for all models during Q1 2022, accounting for 57% of the 539,863 all-electric vehicles delivered by ten leading car makers.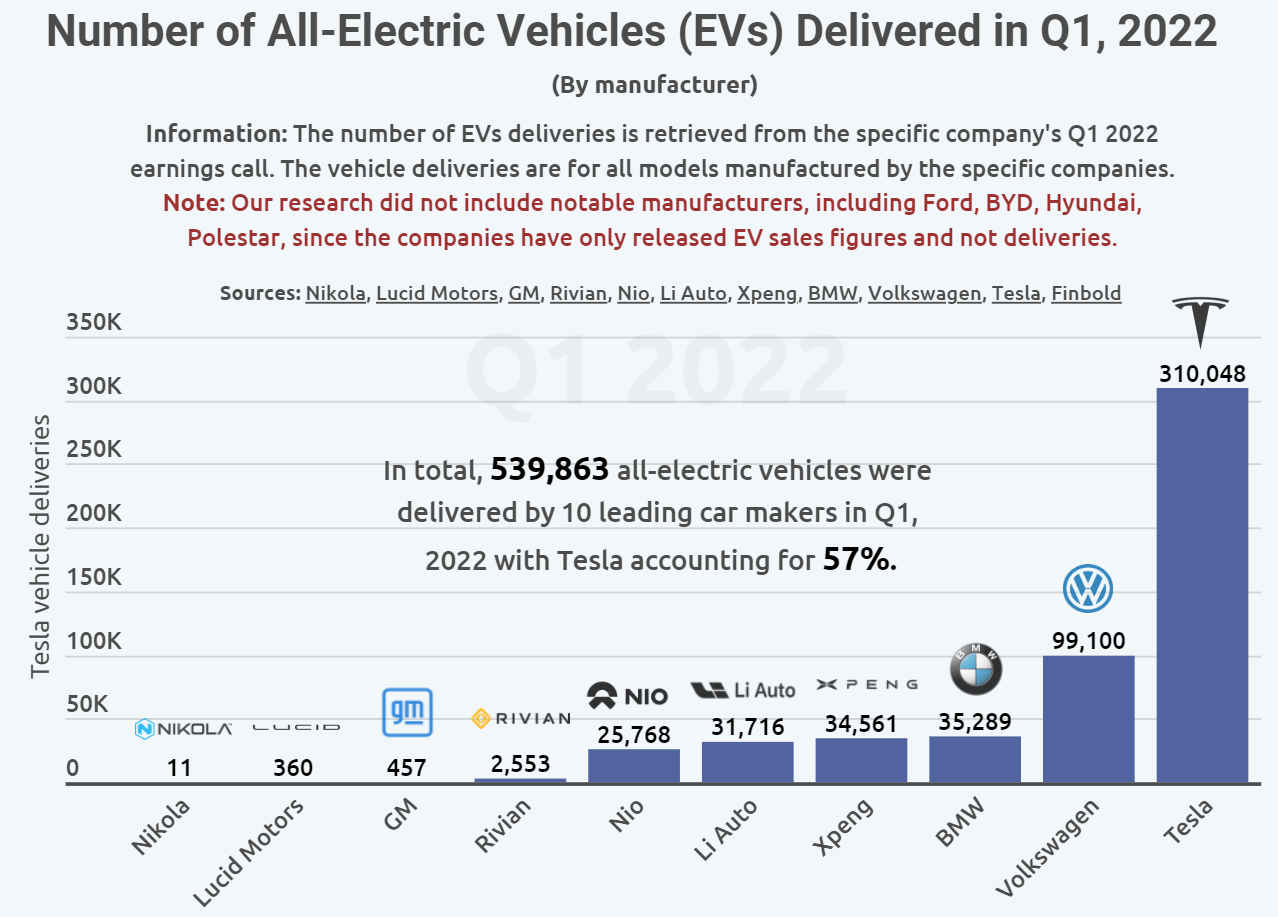 Volkswagen ranked second with 99,100 deliveries, followed by BMW at 35,289 units.
China's Xpeng ranked fourth with 34,561units, while Li Auto closed the top five category at 31,716 units.
Other manufacturers with significant deliveries included Nio (25,768), Rivian (2,553), General Motors (457), Lucid Motors (360) and Nikola (11).
Semiconductor shortage
Although Tesla is dominating the EV market, the company has been forced to adjust its goal to introduce more models, but it remains on course to increase sales, according to the Finbold report.
"Despite the record deliveries, Tesla remains uncertain about the future, with CEO Elon Musk noting that the chip shortage might bar the company from introducing new models in 2022," explained the report's author, Justinas Baltrusaitis.
"However, the Q1 results offer a glimpse of the company's projected to grow annual deliveries by 50%."
Tesla will be banking on ramping up production through new factories alongside market demand for its products.
The demand for EVs is being fuelled by factors like soaring fuel prices and the entrance of more manufacturers into the space. However, the high cost of various EV models might reduce the sector's market growth.