By Lukman Otunuga, Senior Research Analyst at FXTM
After almost three and a half years since Britain voted to leave the European Union, the country is finally on track to withdraw from the continent next month as results forecast the Conservatives winning a clear majority.
If it is confirmed that Prime Minister Boris Johnson has secured a decisive election victory with a majority of around 85 seats, this will be warmly received by investors seeking clarity and direction on Brexit.  This sentiment has already been reflected in Sterling which has appreciated against every G10 currency and jumped 2.7% versus the Dollar to breach 1.35 – its highest level since May 2018. While the Pound is positioned to push higher on Brexit optimism, the longer-term outlook may be clouded by how easy the withdrawal agreement will pass through Parliament and what happens during the transition period.
Given that lawmakers will return to the House of Commons on December 17, Johnson will waste no time in 'getting Brexit done' by pushing through the withdrawal agreement as soon as possible. Even if the process is smooth sailing from here and MPs sign off the agreement before January 31 next year, this is only part one of the complicated Brexit saga. Once the temporary sugar rush offered by the withdrawal agreement diminishes, investors are then likely to turn their attention to the 11-month transition period the UK needs to negotiate a new trade relationship with the EU. Will that time be enough to formulate a new deal, or will the UK decide on extending the transition period by up to a further two years?
As the election dust settles, investors may start re-evaluating the threat of a no-deal Brexit by the end of next year amid fears over the UK failing to reach a trade agreement with the European Union.
Without a post-Brexit deal, Britain will revert to World Trade Organisation (WTO) rules to trade with the European Union which could see additional tariffs and quotas on a range of goods. The reality of more drama and uncertainty looming in the year ahead has the potential to cap gains on the British Pound.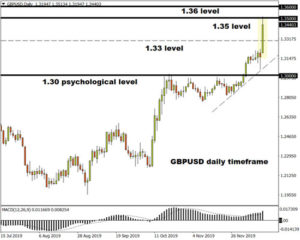 With regard to the technical picture, GBPUSD is strongly bullish on the daily chart. Prices have jumped over 300 pips within the early hours of Friday with buyers currently in the driving seat. A solid break above 1.35 should encourage a push higher towards 1.36. However, should 1.35 prove to be a stubborn resistance level, GBPUSD could decline back towards 1.3380, this year's previous high set in March.
For information, disclaimer and risk warning note visit: FXTM
FXTM Brand: ForexTime Limited is regulated by CySEC and licensed by the SA FSCA. Forextime UK Limited is authorised and regulated by the FCA and  Exinity Limited is regulated by the Financial Services Commission of Mauritius