Following the June 25 general election, Kyriakos Mitsotakis was sworn in on Monday as Greek Prime Minister for a second term, with Sunday's election confirming New Democracy's strong lead, as the new parliament will consist of eight parties.
Mitsotakis' ruling New Democracy party won 40.55% of the vote (39.85% in the 2019 elections), followed by Syriza 17.84% (31.53%), PASOK 11.85% (8.10%), the Communist Party of Greece (KKE) 7.69% (5.30%), Spartans 4.64%, the Greek Solution (EL) 4.44% (3.7%), Niki 3.69% and Course of Freedom 3.17%.
The new electoral system rewarded ND with bonus seats, which resulted in a comfortable majority with 158 seats in the Greek Parliament and a more fragmented opposition, with Syriza, the main opposition party, losing 38 seats.
As a result, New Democracy maintains its strong lead and secures an absolute majority in the parliament, electing the same number of MPs as in the July 2019 election.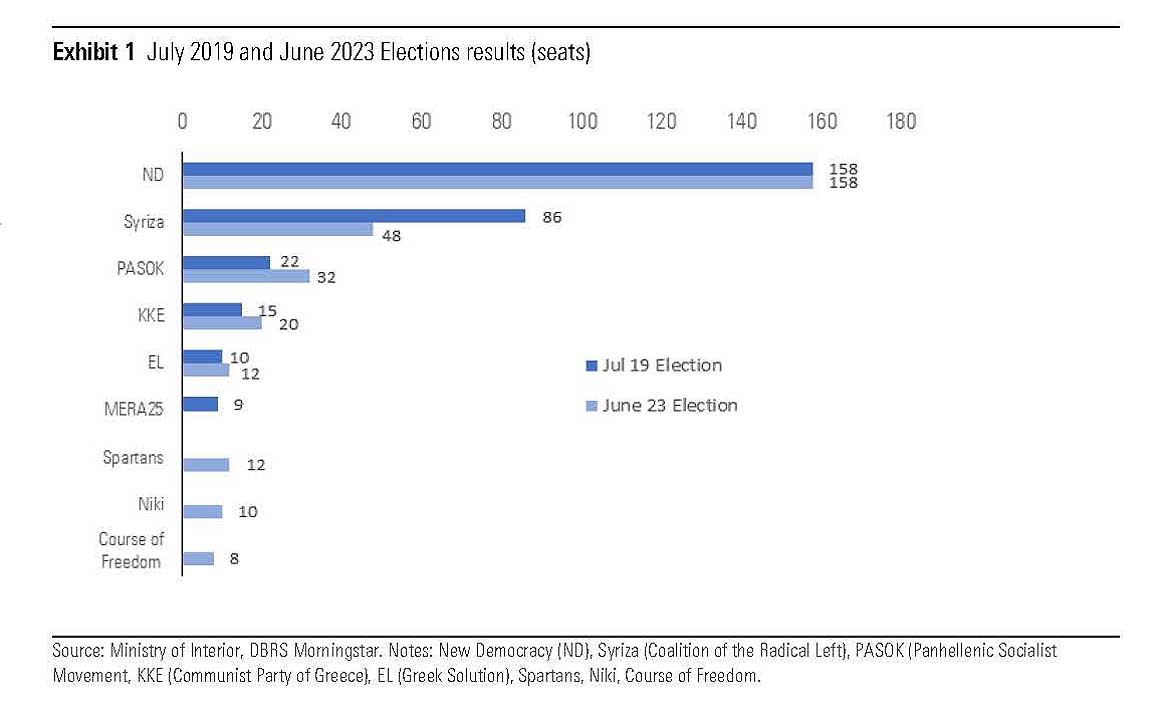 Syriza, the main opposition party suffered big losses compared to the July 2019 election, with its share dropping from 31.53% of the vote to 17.84%. And the new parliament will be more fragmented consisting of eight parties, up from six in the in the 2019-2023 period, and with the more notable presence of far-right parties.
According to DBRS Morningstar, the election results "will most likely bring another period of political stability" to Greece and secure policy continuity, allowing the new government to implement reforms and investments.
Boost economic prospects
The rating agency said that the majority government will provide legislative stability at a time when Greece hopes to manage its EU funds to boost economic prospects.
Furthermore, reforms in the health and justice system, reducing inequality, and setting new policies to deal with Greece's ageing population – including by establishing a new Ministry of Social Cohesion and Family dedicated to the demographic issue – appear to be high on the new government's agenda.
Nevertheless, DBRS Morningstar added that the new Greek government will continue to need to address legacy issues related to the high public sector debt, still elevated non-performing exposures, and the high unemployment rate.
In addition, the deficit in the external balance has widened further and will require additional improvements in factors such as Greece's competitiveness, in order to moderate.
"Following years of high spending due to the COVID-19 pandemic and the energy crisis, the likely reinstatement of EU fiscal rules in 2024 will require fiscal discipline at a time of tighter financial conditions," the rating agency said.
"The continuation of structural reforms and growth-enhancing investments, within a framework of fiscal discipline, could continue to help improve Greece's creditworthiness."